Please join us for a special event celebrating the release of Divine Gardens: Mayumi Oda and the San Francisco Zen Center.
Friday, November 10, 7:30 – 9 pm
In the dining room at City Center, 300 Page Street, SF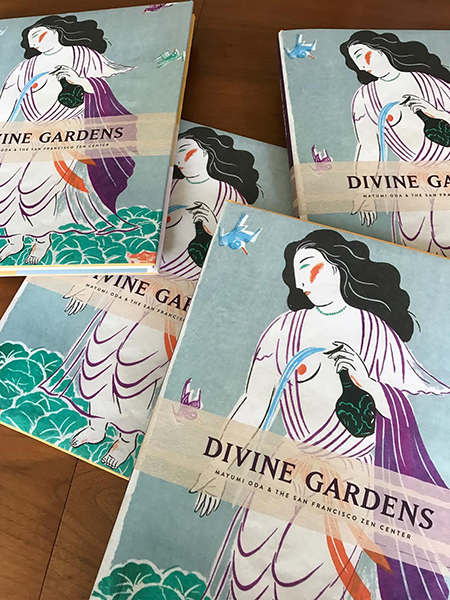 Divine Gardens is a collection of essays and artwork celebrating the life and work of artist Mayumi Oda and her relationship with Buddhist practice in the Bay Area. Mayumi's work has spanned 40 years, and during that time the artist has been active with all three locations of San Francisco Zen Center as well as Greens Restaurant. We have invited Zen practitioners who collect Mayumi's work to share their stories about the pieces they own and where Mayumi's work lives in their home, and to share recollections of their time spent with the artist in friendship and practice. Over 25 writers, artists, and scholars have contributed pieces, including Linda Ruth Cutts, Dana Velden, Edward Brown, Wendy Johnson, and Richard Baker.
Mayumi will be there to sign books and talk about her work and her life with Zen Center. Divine Gardens, published by Parallax Press, Berkeley, California, will be on sale at event.
Special guests will read their contributions to the book and talk about what Mayumi's work means to them as a friend of the artist and in practice. Speakers include Linda Ruth Cutts, Central Abbess of SFZC, Wendy Johnson, founder of Green Gulch Farm's organic farm and garden, and Thomas Ingalls, book designer and publisher of a limited edition of the book.
A trade edition will be released in partnership with Parallax Press in the fall of 2017. And missing links press will be releasing a limited cased clothbound special edition featuring a newly created and numbered etching by the artist.
For more information please visit missinglinkspress.com and parallax.org, and to receive updates about special events and purchasing information please sign up for our mailing list at missinglinkspress.com/contact.