Saturday, September 30, noon – 5:00 pm
Starting Location: Gold Mountain Monastery, 800 Sacramento Street
Ending Location: San Francisco Zen Center, 300 Page Street – arriving at 3:30 pm: please consider volunteering to host the group at City Center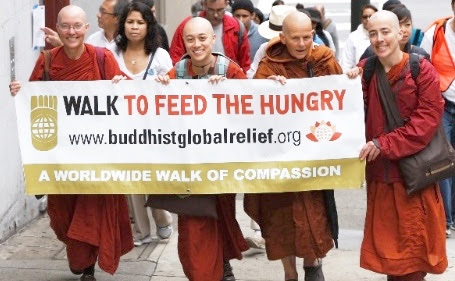 On Saturday, September 30, Buddhist Global Relief will once again tour Buddhist temples in San Francisco as we raise money for the poor and hungry around the world. ​San Francisco has a rich Buddhist history. There will be opportunities to see beautiful shrines as well as beautiful views as we visit some of the city's highlights. Of course, the greatest opportunity of all is to express our compassion through helping the poorest of the poor around the globe.
City Center is looking for volunteers to be greeters and tea servers 3:30 – 5:30 pm when the group will be arriving at 300 Page Street. Please contact the director at ccdirector@sfzc.org to let him know if you are able to act as a host.
Many groups will help support the Walk such as: Aloka Vihara, Berkeley Buddhist Monastery, Berkeley Buddhist Temple, Berkeley Zen Center, Buddhist Church of San Francisco, Dhammadharini, Gold Mountain Monastery, Insight Meditation Center, Mindfulness Care Center, Mission Dharma, San Francisco Insight, and San Francisco Zen Center.
Register or make a donation on the Buddhist Global Relief website.