At Green Gulch Farm, Sunday, July 9, 2017, at 2:30 pm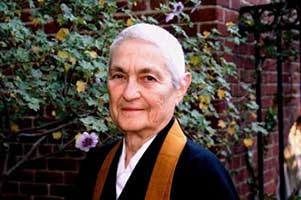 Family, close friends, and students of Zenkei Blanche Hartman will gather in the Green Gulch Farm garden herb circle to mingle a portion of her ashes with those of her husband Lou. A more formal ceremony interring her remaining ashes at the Abbatial Memorial site at Tassajara will be held at some point in the future.
The ceremony at Green Gulch Farm will include the recitation of one of Blanche and Lou's favorite sutras, the"Enmei Jukku Kannon Gyo," to honor the enduring gifts of Blanche's life, and of her and Lou's life together. They chanted this sutra together every day after breakfast at City Center, dedicating its positive energy for the well-being of friends, family members, and Zen practitioners who were ill or needed help and support.
The ceremony will take place on Sunday, July 9, 2017, at 2:30 pm. If you plan to attend, please RSVP to ggfabbessassist@sfzc.org.