Thanks largely to the organizing work of San Francisco Zen Center members and friends, on April 29 more than one hundred practitioners from Green Gulch Farm, City Center, and sanghas from around the Bay Area came together at Lake Merritt in Oakland to sit and march our practice at the People's Climate Mobilization.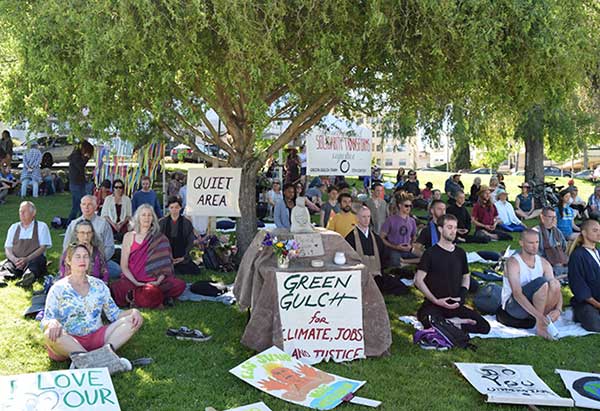 Striving to enact our interdependence with the great Earth and all beings through the public, communal practices of sitting, chanting, and offering food and water, we left inspired and renewed in our practice and vows.
We were also encouraged in feeling the impact our presence had on the event as a whole. As we sat through the afternoon, we were appreciated, noted, and now and then even joined by countless passersby and marchers. In that appreciation and mutual recognition it was clear that our sitting practice expresses a vital and universal vow, and that our true sangha really is the community of all beings.
Below are some reflections on the day from a few of the many who participated.
Sitting publicly together as a community in solidarity with the Earth's pain felt more powerful to me than I expected. To put my humanness on full display, in its most basic expression through zazen, felt like a radical and honest acknowledgment of my contribution to the degradation of our planet. Saturday reminded me of the gratitude I feel for this community, and for this practice, which not only encourages, but demands through its understanding of interconnectedness, that I look deeply at the effects of my actions.
Participating in the day's activities by sitting zazen was a profound experience for me. My sense was that it also made a significant impression on some of those who stopped to observe our group. We also enjoyed the bus ride over with the Green Gulch Farm young folks—chanting and "rocking" the bus the entire way to Lake Merritt!
What I appreciated about the day was the stillness, and quiet, for meditation, and perhaps contemplation. It felt as though it created peace all around us, and our next tent over was so still and quiet as well. It was a group from Richmond concerned about quality of air in their area … Interestingly, a lovely young woman there sang the great Abby Lincoln song "Throw it Away" and it felt like a Dharma Talk in song:
throw it away, throw it away
give your give your life
give your love
each and every day
keep your hand wide open
let the sunshine through
you can't lose a thing if it belongs to you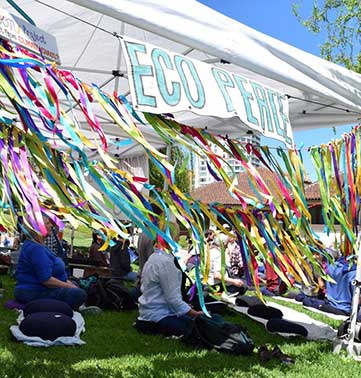 Even the band passing by felt quiet. It was such a peaceful time
It was a wonderful experience to sit together there at the lake. I particularly enjoyed listening to a rowing lesson happen on one side of us and a meeting of Bridges over the Bay with singing happening on the other side of us, as we sat.
Showing up together, sitting zazen in public, holding stillness and silence outdoors in a public venue for the benefit of the ailing Earth—that was a radical expression of our vows! It felt to me like an awesome instance of our intent aligning with our impact. Under the tree at Lake Merritt I felt an exchange of energy between the seated Bodhisattvas and the marching Bodhisattvas that nourished my heart and which continues to sustain my practice. I felt there a surge of life-force in my body; it was like electricity in my heart and a spacious focus in my mind that kept me upright on my cushion far longer than I would have sat had I been alone. Sitting zazen for the benefit of others, of all beings and the great Earth, felt largely theoretical until that day. Based on convos with my Dharma sisters and brothers, they felt something similar. And what's equally new and remarkable in this situation is that I think the people taking our pictures all day – people who weren't consciously seeking out the Dharma—I think they felt the energetic exchange (hence the pics!), and I think the tent next to us (The New Jim Crow – Vallejo) felt it, too. We threw a big rock in the pond and the ripples were massive.
I am deeply, deeply grateful and impressed with how it all came together.
I felt deeply the fruit of our Zen training and community life practice at the march. I was really heartened by the way we all worked and flowed together, seamlessly taking care of one another, the space, the event logistics, and our practice.