Over the next four weeks, some of the residents at City Center have volunteered to wear this sticker and become a Dharma Buddy for the day as a way to welcome newcomers to Beginner's Mind Temple.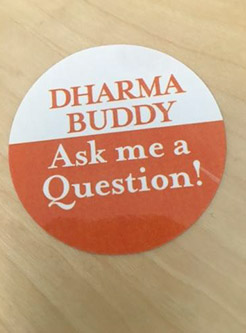 Many newcomers have said it would be helpful to have someone to answer their questions during the public program. On Saturdays, this begins with zazen instruction at 8:40 am in the Buddha Hall, followed by zazen at 9:25 in the zendo. There is also a dharma talk at 10:00 am, followed by tea and cookies and a chance for a Q&A with the speaker. A public lunch is available by donation at noon.
Our public programs are offered free of charge, and donations are warmly accepted.
Whether you are a newcomer or a regular visitor to City Center, please look at out for these orange and white stickers—and feel free to ask any of us a question about Zen practice, meeting with a teacher, or any other question about practice that comes up for you. If we don't know the answer, we'll try to find someone who does.
We look forward to seeing you at one of our Saturday programs soon—and please let me know if you think this program is helpful. Email: vicepresident@sfzc.org
With warm bows,
Ryugin Rita Cummings
Vice President – Operations