Lion's Roar presents its first event of 2017 – a weekend of Buddhist discussion, dialogue, and debate on January 27 and 28. Sponsored by: Khyentse Foundation and San Francisco Zen Center.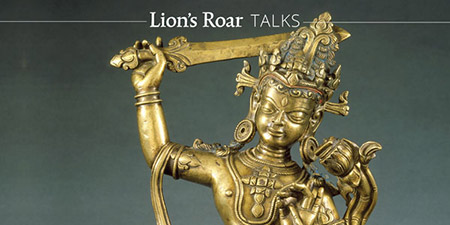 Friday, January 27, 7 pm – 9 pm
The Question Is the Answer
An evening conversation between Zoketsu Norman Fischer, founder and teacher of the Everyday Zen Foundation and former Abbot of the San Francisco Zen Center, and Judy Lief, Vajrayana teacher, writer, and editor.
First Unitarian Church of San Francisco, 1187 Franklin St, San Francisco, CA
The conversation will be moderated by Melvin McLeod, Editor in Chief of Lion's Roar and Buddhadharma magazines.
Saturday, January 28, 9 am – 4:15 pm
Manjushri Dialogues: Uncovering Hidden Fixations in our View and Practice
With Mitra Karl Brunnholzl, Daijaku Judith Kinst, Anne Klein, and Jiryu Mark Rutschman-Byler
The Box SF, 1069 Howard Street, San Francisco, CA
Lunch provided and a reception will follow.
$15 – $75