Thanks to the generosity of our friends, we collected 127 pairs of socks during the month of October for the Gubbio Project, which offers shelter and food to homeless men and women in the Tenderloin and the Mission.
Our book sale, the proceeds of which fund all of our outreach activities, collected $480. Thanks to those who donated and who purchased books.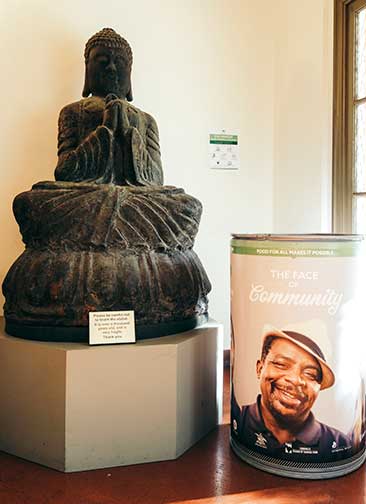 In the lobby at City Center, a food barrel from the SF Food Bank will be in place through the end of December. You may donate food items directly (please no glass containers) or make a financial offering at Zen Center's Food Bank page.
Upcoming: We will be offering meals through the SF Interfaith Council's Winter Shelter program on December 10 and February 4. If you are interested in volunteering, please contact outreach coordinator, Jeffrey Schneider, at outreach@sfzc.org. We will be cooking in the City Center kitchen and delivering and serving at local churches. The hours of volunteering are from approximately 1:30 to 9 pm. We are looking for volunteers who are able to commit to the entire event.
Photo by Stephanie Um.