If you have been meaning to check on availability in your favorite May retreat,
check
now
!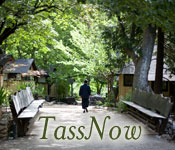 If you can get away from the hustle and bustle for a few days, there are amazing accommodations awaiting you! There are four- and five-night stays available in private cabins and in shared housing, so this is a perfect time to tell Life you're playing hooky and come put your toes in the spring creek and your back in a hammock.
For questions or to reserve your room, please contact Tassajara Reservations by phone, 888-743-9362, or email tassreservations@sfzc.org.
— NOTE: TassNow room availability updates refer only to last-minute / near-future availability at Tassajara. These updates don't necessarily mean that other dates aren't available. For all inquiries about availability and reservations at Tassajara, please contact Tassajara, as indicated above.