"My inspiration springs from my feral imagination," says Susan Imperial, whose work is on show at City Center during the month of March. Everyone is invited to the reception, March 18, 7 pm – 9 pm.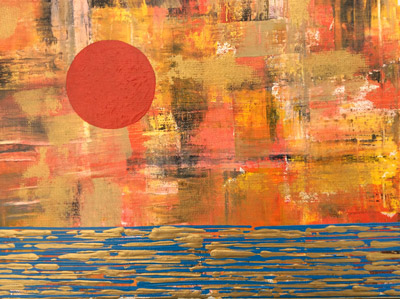 Artist's Statement
Art is my first love. With the experience of many art classes throughout my life, I am predominantly a self-taught artist, painting and making art since my childhood growing up in San Francisco. I see the world—in its spectrum from dark to light—through an artist's eyes. My inspiration springs from my feral  imagination and my love of color and texture. I value—and crave—diversity in my work; diversity of media, imagery, and feeling.  My wish is to surprise, to delight, even provoke the viewer.  My aspiration is to establish a relationship with the viewer through my art, creating pieces that touch hearts and minds and offer a visual poem that resonates with the viewer.
In this show, I take viewers on a journey "Without a Compass."  Note the various sizes, media, colors, textures, and mood of each piece. Each work is both a stepping stone to the next (whatever the "next" may be) and its own unique destination, all at once. Some works are acrylic, while others are mixed media with the use of wax.
I hope you enjoy the journey.
Sue Imperial
March 2016