Shuso ceremonies closed the fall practice periods at both City Center and Green Gulch Farm Zen Center recently, launching the head students (shusos) for each practice period into a new chapter of Zen practice as budding teachers. Congratulations and best wishes to both.
Zenkai Curtis Fabens served as shuso at City Center, where the practice period titled "Zen Is Our Everyday Life" was led by Abiding Abbot Rinso Ed Sattizahn. Curtis's teacher, Zenshin Greg Fain, tanto (head of practice) at Tassajara, was an honored guest at the Shuso Ceremony on December 5.
Hogetsu Laurie Belzer, visiting from Chicago, was shuso at Green Gulch, where the practice period titled "A Great Mass of Fire: The Teaching of Suchness" was led by Senior Dharma Teacher Tenshin Reb Anderson. Laurie trains and assists at Ancient Dragon Zen Gate, a Branching Steams affiliate group in Chicago led by Taigen Dan Leighton. Her teacher, Taiyo Lipscomb, is Tenshin's dharma heir and a former longtime Green Gulch resident who lives in the Bay Area. He was an honored guest at Laurie's Shuso Ceremony on December 7. The shuso's attendant, Choro Carla Antonnacio, was also a visiting student from another Branching Streams sangha, Chapel Hill Zen Center in North Carolina.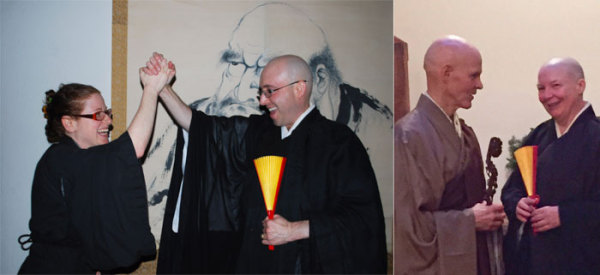 __________
Photo credits: CC photos by Allison Tait; GGF shuso photos by Karena Franses; GGF practice period photo by Sara Tashker.