The Guest Program Plus a New Kitchen Program at Green Gulch
Expanding the options for residential training, the staff at Green Gulch Farm Zen Center are pleased to launch a new Kitchen Apprenticeship Program beginning in February 2016. The program will be offered three times a year in tandem with the periods of the continuing Guest Program Apprenticeship, launched last year.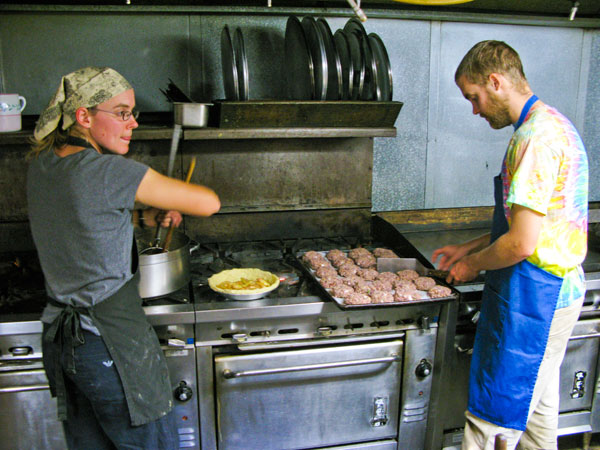 These programs join two other established programs—the Farm and Garden Apprenticeship and the broader Work Practice Apprenticeship—creating a menu of choices for beginners with special interests to focus their living and learning at Green Gulch. Established in 1994, the Farm and Garden Apprenticeship runs six months from April to October, whereas the other programs last for periods of three to four months. (See Apprenticeship Programs.)
Leaders of the two newest apprenticeships looked up for a few moments from their busy work this week to share their thoughts on the most meaningful aspects of these offerings.
The Kitchen Apprenticeship Program is a unique offering of practicing mindfulness in a kitchen that transforms beautiful fresh vegetables—grown here at Green Gulch Farm—into delicious nourishing meals. It is unique to watch the lettuces, potatoes or herbs and apples grow and to develop a menu that is tuned in to what is in season and what is sustainable in a wider perspective. We practice with a group of people who intend to cooperate and support each other in each step of preparing and cooking together, to serve this community and welcome our guests.
—Jisan Anna Thorn, Tenzo (Kitchen Director)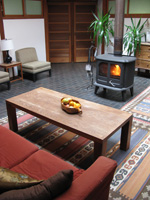 Hospitality as a spiritual practice is an ancient monastic tradition.  The roles of host and guest have been used as a metaphor in the Zen tradition to represent the sameness and difference of ordinary mind and enlightened awareness.
At Green Gulch Farm we care for guests from all over the globe. Some come in groups for conferences and retreats, others as individuals for personal retreats. Some are first-time visitors to the Bay Area, with no experience of Zen; others come to Green Gulch to take a break from city life and work, and experience the peace and beauty of the landscape. The guest program welcomes and cares for them all as an important part of our practice. We provide overnight and conference rooms that are simple, clean and aesthetically beautiful, and we pay attention to each detail in preparing for our guests. We work together quietly and harmoniously, and mindfully, nurturing the mind of zazen throughout our workday.
Additionally, apprentices participate in a tea gathering at Green Gulch with Meiya Wender to learn more about the Zen art of host and guest in Chado, the Way of Tea.
—Shokuchi Deirdre Carrigan, Guest Manager
Shokuchi also explained more about the relationship, or overlap, of the two programs:
Our guest program apprentices will work with the kitchen crew for a period of time (four weeks in the fall apprenticeship; one week in the spring apprenticeship; one week in the summer apprenticeship). The training in the kitchen during practice intensives and sesshin are a bridge to the practice in the zendo. The apprentices help to prepare food in the traditional way for oryoki meals, participate in the offering of the food to the zendo each breakfast and lunch, and study the Tenzokyokun, written by our Japanese founder, Eihei Dogen Zenji. The two apprenticeship programs will share common training aspects and will operate simultaneously.
For more information on these programs and the application process, see Apprenticeship Programs.
A new period starts for both programs on February 2—apply now and arrange your guest student stay, which must be completed in advance.