The lovely bird song of summer is now replaced by occasional bird calls and lots of industrious rustling in bushes and dry grasses. The hills are brown and water is scarce. The air is a little cooler with a suggestion of rain.
At Green Gulch, the farm and garden apprentices are preparing to end their six months of working on the land. Many will stay for the fall practice period starting in a couple of weeks.
Meanwhile, there is a bustle of activity in between the garden and the zendo pond. Our restoration company, Prunuske  Chatham, Inc., is creating a stream bed in the upper garden that will carry water into Green Gulch Creek. It will receive the water via culvert from Spring Valley. The culvert formerly emptied into the zendo pond which is dammed to hold irrigation water for the farm. The new arrangement will bypass the pond and give much needed water and sediment to the lower creek and all the life that depends on the creek.
The fall equinox marks the beginning of a new, darker, more hidden season. Let us be inspired to reflect, slow down our activities and draw closer to our hearth, Mother Earth.
The passage above is from a message last week by Green Gulch Land Advocate Sukey Parmelee to the Watershed Work Party volunteers, who come once each month to enjoy time working together and making improvements on the land at Green Gulch. (For more information on these gatherings, including the next one coming up this Sunday, October 11, see Watershed Work Party Days.)
Another event benefiting all beings took place recently in our farm fields—called gleaning.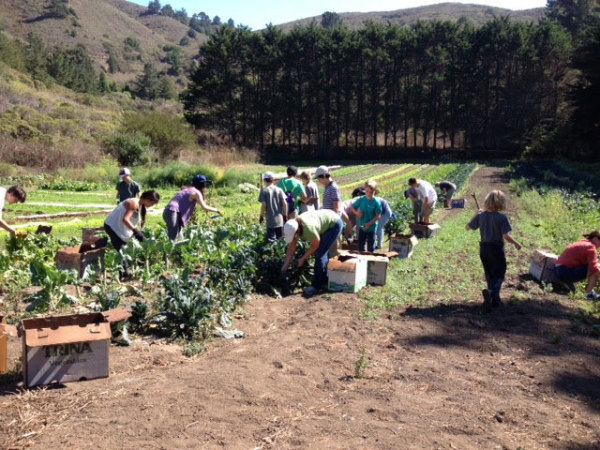 It is estimated that around 7% of US crops go unharvested. A gleaning movement that began in Marin County in 2010 has brought volunteers to local farms to collect this produce and grain to donate to local food banks. This year on September 20, 50 youth and adult volunteers through the Marin Interfaith Council visited Green Gulch Farm and gleaned 471 pounds of greens for the Marin-SF Food Bank. Thanks to these volunteers for their wonderful community service—and we at Zen Center are fortunate to have a part in this good work.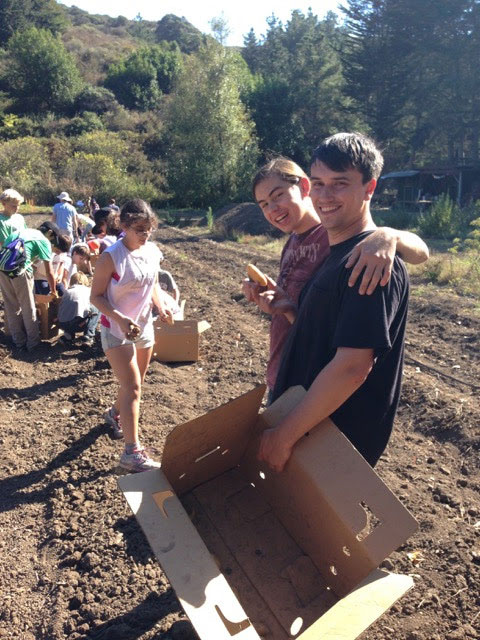 The Marin Interfaith Council Newsletter cited Rev. Wendy Cliff from St. Stephen's Episcopal Church on the day's experience:
Thank you for the most lovely afternoon at Green Gulch! We were deeply moved by the experience in the Zendo—honored to enter that space and inspired by the teachings about meditation. The time in the fields was rewarding—gleaning food for those in need, learning about farming and harvesting, and making some new friends. One teenager commented on how meditation would be a great way to manage all the stress that comes from his school life, and another youth reflected on her new understanding of the work involved in bringing fresh produce to her dinner plate. We were also grateful that we could bring home a taste of the experience to share with others in the form of those delicious potatoes!"
__________
Gleaning photos courtesy of Marin Interfaith Council.