Led by Sangestu Kathy Early (GGF sewing teacher)
and Kiku Christina Lehnherr (partial attendance)
October 18 – 23, 2015
Sunday at 1:30 pm through Friday at noon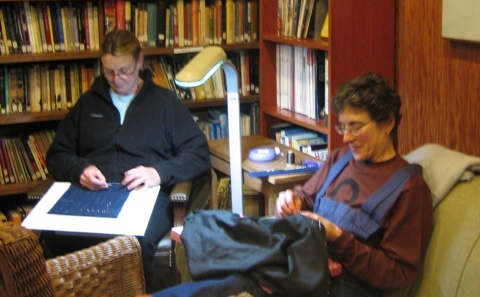 Called in Japanese Fukuden-kai, a gathering for sewing the robe which is called a "field of blessings," this retreat will be devoted to sewing Buddha's robe and sitting zazen. Retreatants will join the Green Gulch community for morning and afternoon zazen, service and soji (temple cleaning), and will sew during the day.
The retreat is open to those who have permission from their teacher to sew a rakusu in preparation for receiving the precepts, or an okesa for priest ordination. Those who have already received the precepts and wish to sew another rakusu for themselves or someone else are also welcome, as are those who are training to teach robe sewing.
This retreat is particularly suited for those who want to sew Buddha's robe and are unable to attend weekly classes at Green Gulch or City Center. Participants are welcome to stay for lunch after the retreat ends on Friday.
Participants may attend all or any part of this retreat. Commuters are welcome.
Please see the full event page for retreat fees and registration details.