A few last minute retreat possibilities for July! Or stay at Tassajara in a dorm or shared housing without a retreat!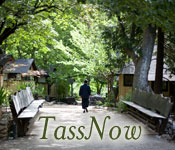 We have one private cabin available for one night through the rest of July:
Cabin 20 for the night of July 21
but some great opportunities in the dorms! Consider taking a retreat while taking advantage of these low-cost accommodations:
July 19-26 – shared housing for women – and take The Spirit of Practice retreat
July 21-26 – shared housing for women – and take The Healing Power of Stillness retreat
July 22-30 – plenty of room in the men's dorm
July 26-31 – women's dorm – and take the Stepping Back–Stepping forth retreat
For questions or to reserve your room, please contact Tassajara Reservations by phone, 888-743-9362, or email.
— NOTE: TassNow room availability updates refer only to last minute / near future availability at Tassajara. These updates don't necessarily mean that other dates aren't available. For all inquiries about availability and reservations at Tassajara, please contact Tassajara, as indicated above.