There are still a couple cabins available for the July 10-12 weekend and private redwood cabins available for full week (Sun-Thu) stays!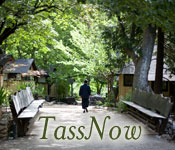 For July 10-12, Cabins 10 and 11 (sycamore cabins) are available. Please note there is a 2-night minimum on weekends.
For July 12-17, Cabin 5 (tatami cabin) is available, and there's still space in the Thriving in Uncertainty retreat. (Want to attend Thriving in Uncertainty at a lower accommodation cost? There's still room in the men's dorm and in shared housing (female) in a redwood cabin.)
For July 26-31, Cabin 17 (redwood cabin) is available.
These private cabins won't stay available long!
There are some prime opportunities in the men's and women's dorms as well as Guest Practice. Give Tassajara reservations a call to discuss possibilities.
For questions or to reserve your room, please contact Tassajara Reservations by phone, 888-743-9362, or email.
— NOTE: TassNow room availability updates refer only to last minute / near future availability at Tassajara. These updates don't necessarily mean that other dates aren't available. For all inquiries about availability and reservations at Tassajara, please contact Tassajara, as indicated above.