It's not too late to join the Brush Mind retreat from June 21-26! Explore the creative process through the ancient art of brushwork with Kazuaki Tanahashi at Tassajara.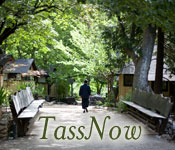 In retreat availability, there are two spaces left for Brush Mind with accommodations in shared housing (female, Mountain Path Cabin) and the men's dorm. We have one remaining spot for Energy & Inquiry with accommodations in shared housing (male, Redwood cabin or men's dorm).
Vacancies through July 5 are limited, but we have one private cabin (Cabin 16) available the weekend of June 26-28 and there are single-night stays in private cabins on weekday nights and multi-night stays in shared housing and Guest Practice. Give us a call and see if we can match your availability with ours!
For questions or to reserve your room, please contact Tassajara Reservations by phone, 888-743-9362, or email.
— NOTE: TassNow room availability updates refer only to last minute / near future availability at Tassajara. These updates don't necessarily mean that other dates aren't available. For all inquiries about availability and reservations at Tassajara, please contact Tassajara, as indicated above.