Summer guest season at Tassajara offers luscious farm-to-table organic vegetarian cuisine that stems from the Zen tradition of attending to our food preparation as mindfully as we attend to our spiritual practice.
This summer, Zagat food guide features one of the recipes we serve in the Tassajara Dining Room in "10 Summer Dishes Worth a Drive in the Bay Area."  The recipe, Enchiladas Rojas, is offered here by its creator and former Tassajara guest cook, Melinda Miller.
 We hope you will enjoy making and eating this sumptuous and wholesome dish.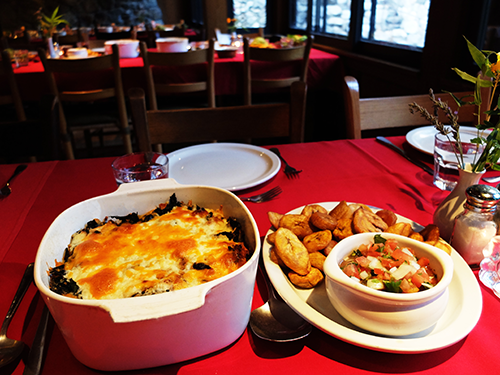 1 small butternut squash or 2 sweet potatoes, medium dice
½ C quinoa, rinse well
8 oz sharp cheddar, shred
1 large onion, medium dice
8 cloves garlic, mince
1 bunch kale, medium chop
salt and pepper, to taste
12 corn/wheat tortillas
2-3 tomatoes, medium dice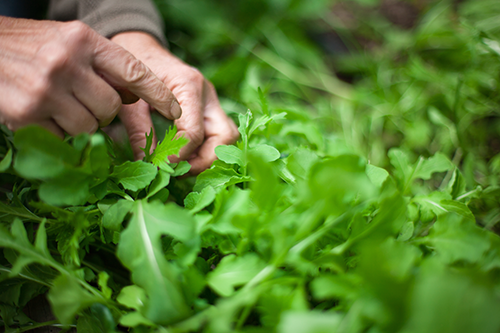 ¼ bunch cilantro, stems and leaves small rough cut
1-2 T dried ground chili, preferably two different kinds
1t dried oregano
1t cumin seed
¼ C olive oil
¼ small white onion, fine dice, garnish
¼ C cilantro, stems and leaves fine chop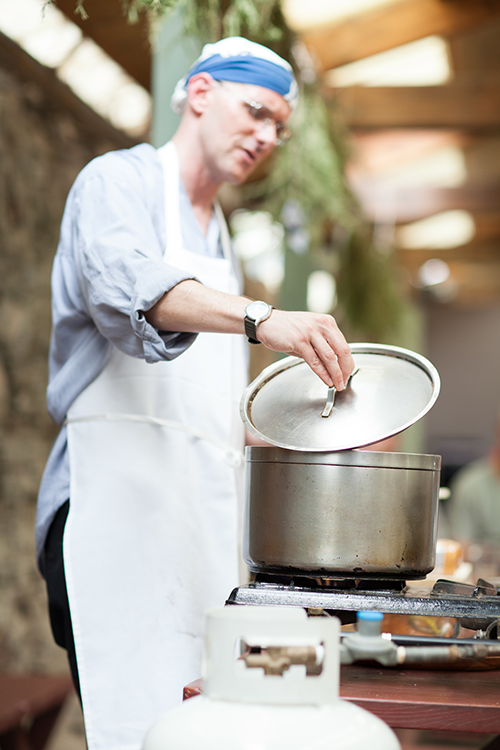 Preheat oven to 425 degrees.
Combine quinoa and ¾ C cold water in a small saucepan.  Bring to a boil, turn heat down and simmer, covered for 10 minutes.   Turn off heat and steam 5 more minutes.  Set aside.
Toss the butternut squash cubes with a little canola oil, salt and pepper, and roast until fork tender, stirring once, about 20 minutes.
Lower oven temperature to 375 degrees.
Meanwhile, gently sauté half of the onion and half of the garlic with 1 T olive oil until onion is translucent.  Add kale and sauté until tender, adding a small amount of water and covering pan as necessary.  Salt and pepper to taste.
Combine onion and kale mixture, shredded cheese, cooked butternut squash, and cooked quinoa in a large bowl.  Season to taste and set aside.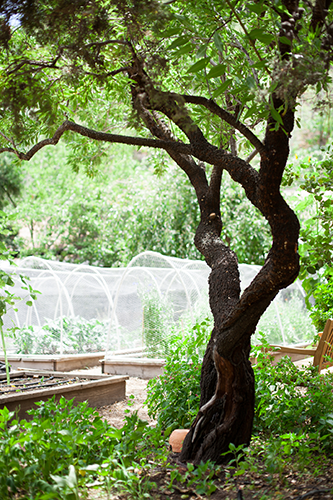 Gently heat rest of olive oil in the sauté pan.  Add the cumin seed, and after 30 seconds, add the rest of the onion and garlic.  Sauté until onion is translucent.  Add the chili powder and oregano, and sauté a few more minutes.  Add the tomatoes.  Turn the heat down and cover the pan.  Cook slowly for about 5 minutes until the tomatoes are just tender and cooked through.  Puree this mixture in a blender with the cilantro until smooth, adding water as necessary to make a medium sauce.  Season to taste with salt and pepper.
Oil a 9×13 pan.  Spread a little bit of the sauce on the bottom of the pan.  Divide filling between tortillas and roll.  Place snuggly along the length of the baking pan, seam side down.  Place the last four enchiladas two by two going the other way to fill in the space.  Cover enchiladas with rest of the sauce.
Bake for about 30 minutes until hot.
Garnish with diced white onion and cilantro.
*Note:  using corn tortillas that contain a little wheat in this recipe allows you to roll the enchiladas without needing to fry the tortillas beforehand.  The wheat makes the tortillas pliable, preventing cracking.  If you prefer pure corn tortillas, just fry them briefly in hot oil, or dip in the hot enchilada sauce before rolling.