Dear Dharma Friends,
Our hearts are grieving for the devastation following the earthquake in Nepal, the birthplace of the Buddha. We mourn for the many lives lost, the ongoing suffering of the survivors, and for the loss of ancient temples and villages now in rubble. Roshi Joan Halifax of Upaya Zen Center—who has done extensive work in Nepal—has invited those who wish to help to donate to the Nepal Earthquake Relief Fund. May we send our compassionate energy to all who are in need.
At the same time as we remember those suffering in Nepal, let us also not forget those who are suffering, in so many ways, in Baltimore, Maryland, and other places in this country. The effects of poverty, disenfranchisement, racism and a history of tensions and distrust between law enforcement and the African American community have surfaced in myriad ways. May we open our eyes and clearly observe that which is right before us, sending our compassionate energy for protecting life.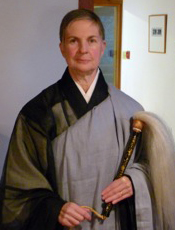 Bowing,
Linda
Eijun Linda Ruth Cutts
Central Abbess
San Francisco Zen Center