Celebrate the environment, the community, and general health by joining like-minded citizens of different faiths to tour our beautiful city!
As part of Bike to Worship Week in San Francisco, May 24-31, you are invited to join 12 congregations from multiple spiritual traditions for an interfaith ride, organized by City Center resident Myles Cowherd. The 13-mile, slow bike ride begins at 1 pm on Sunday, May 31, and concludes with an interfaith ceremony in the music concourse at Golden Gate Park at 3 pm. The route connects all of the participating congregations, and it's a "pickup ride," which means you can begin at the start (see below), hop on at one of the congregation sites, or meet us for the ceremony at 3 pm.
From Myles: "Let's come together as a community to share the joy and freedom that can come from faith and cycling."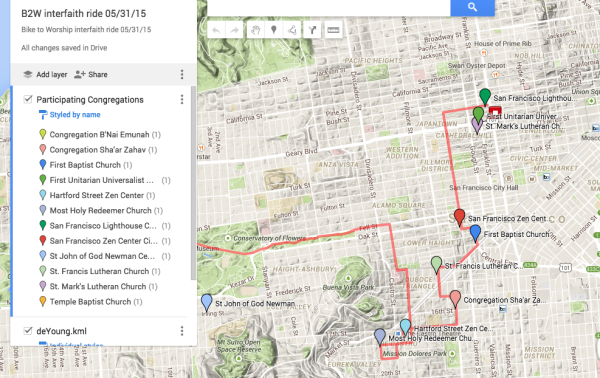 Interfaith Ride
Sunday, May 31, 2015
Starting at 1 pm from San Francisco Lighthouse Church (1337 Sutter Street)
Interfaith ceremony, 3 pm, Golden Gate Park Music Concourse (50 Hagiwara Tea Garden Dr.)
No need to register—just show up at any point along the route!
For more information, or to volunteer to help with this event, contact Myles at 415.405.6145 or mcowherd@gmail.com.