Come to Tassajara early in the season and enjoy springtime in the Los Padres National Forest!
Between April 30 and May 11, we have a smattering of single-night (weekdays, Sun-Thu) availability in our Creekside cabins. Longer stays have become available in Mountain Path cabins, Redwood cabins (including Redwood Tatami cabins), Courtyard Rooms, and Sycamore cabins. Dorm and shared housing options available as well. Book soon! They will go quickly!
For the single night of Sunday May 14, we have many cabins and dorm beds available.
Space is still available in the following retreats:
Zen and Swimming Dragon Tai Chi (April 30 – May 7), only 2 spots in shared housing (women only) left!
Loving the Mountains (May 3-6)
Wildflowers and Birds of Tassajara (May 7-10)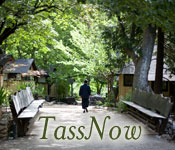 For questions or to reserve your room, please contact Tassajara Reservations by phone, 888-743-9362, or email.
— NOTE: TassNow room availability updates refer only to last minute / near future availability at Tassajara. These updates don't necessarily mean that other dates aren't available. For all inquiries about availability and reservations at Tassajara, please contact Tassajara, as indicated above.