A Branching Streams sangha profile

Red Cedar Mountain Temple, perhaps better known as the Chapel Hill Zen Center (CHZC), is the only Soto Zen temple in Suzuki Roshi's lineage located in the southeastern United States. "Red Cedar" refers to the many cedar trees on our property, and "mountain" is a traditional designation for a Soto temple. We are grateful to be hosting the next Branching Streams meeting of SFZC affiliated sanghas in May 2015.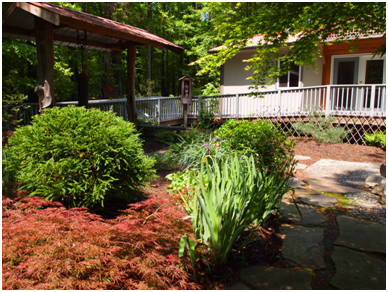 CHZC began in the early 1980s with weekly zazen hosted by former San Francisco Zen Center residents Frank and Mo Ferrell, Lois Bateson and Tozan Tom Hardison. Early sesshins were led by Dainin Katagiri, and in the 1990s Sojun Mel Weitsman, Tenshin Reb Anderson, Ed Brown and Zenkei Blanche Hartman also generously visited and led practice. Since 1991, Taitaku Josho Pat Phelan, who practiced and trained for 20 years at SFZC, has been leading the group.
After a period of sitting in temporary spaces, the group found a suitable space a few miles outside Chapel Hill in a wooded and semi-rural part of Orange County. With years of steady growth, and increasing stability and maturity in the group, an important milestone came in October 2000, when Josho Sensei (who received dharma transmission from Sojun Mel Weitsman Roshi at Tassajara in 1995) was invited to become the abbess of Red Cedar Mountain Temple and ascended the mountain seat. Sojun, Zenkei, Dairyu Michael Wenger, Shosan Victoria Austin, John Grimes and many other friends from California were in attendance. In another important step for the community, our first priests were ordained in 2003, and three priests currently serve the sangha together with our teacher. Jakuko Mo Ferrell, who has long sewed traditional robes for the sangha far and wide, is our sewing teacher, having been trained by Zenkei Hartman in sewing Buddha's robe.
A wide range of people regularly come to sit and to our programs, from high school and college students to retirees, from beginners to newcomers with experience at other centers and traditions, to long-term members of the group who have been sitting together for 20 years and longer.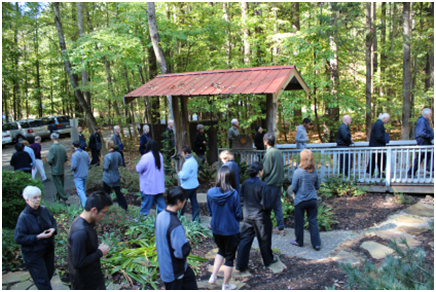 We offer zazen instruction twice a week, and about 150 people receive zazen instruction annually. We currently offer daily zazen, monthly all-day sittings, two full sesshins a year and a summer practice period. Our schedule also features a weekly study group, regular sewing sessions for those preparing to receive the precepts, talks by visiting teachers and scholars from three major universities nearby, and in recent years we have had five-day genzo-e sesshins led by Shohaku Okumura, and weekend teachings by Issho Fujita. Potlucks and other social events accompany the major rituals of the year: Buddha's Birthday, Sejiki, Buddha's Enlightenment and other events. We have a thriving children's program with events directed toward kids and families.
In addition, Josho travels to two affiliated groups, the Richmond Zen Group (VA) and Wake Forest University Meditation Group (Winston-Salem, NC). CHZC also hosts a weekly Buddhist recovery meeting. Members of the sangha lead zazen at several state prisons, including North Carolina's death row, and at a large federal prison complex. Members of our sangha are also grateful to be able to participate in practice opportunities provided by SFZC, including sesshins, practice intensives and practice periods.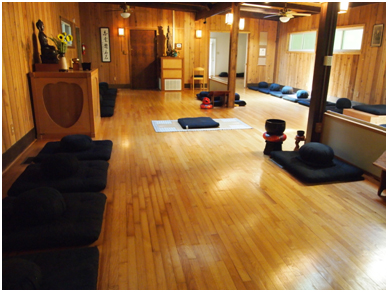 Our temple features a beautiful, cedar-paneled zendo, as well as a library, space for zazen instruction, community room, space for retreatants and kitchen facilities. In recent years we realized that despite the fact that we can accommodate nearly 40 people sitting zazen in the meditation hall, special ceremonies and visiting teachers sometimes bring more people than we can comfortably seat, and at times there isn't enough space even at our regular Sunday morning program. With the help of innumerable beings we have built two additions to help accommodate this growth.
We warmly welcome you to visit us in North Carolina! For more information, please visit our website at chzc.org, or email info@chzc.org.
__________
Editorial note: Tim Kroll, who just finished serving as shuso for the Winter Practice Period at City Center this weekend, began his practice at Chapel Hill Zen Center.
For more information about the Branching Streams network or to use the directory to find a group near you, visit the new website at branchingstreams.sfzc.org.