Published by Wisdom Publications, 2015
Review by Shahara Godfrey
Reverend Zenju Earthlyn Manuel has written a thoughtful and poignant book titled The Way of Tenderness: Awakening through Race, Sexuality, and Gender. As a black lesbian Zen priest, she invites us to explore awakening through the challenges of race, sexuality and gender. Her audacious, fearless, courageous Buddhist framework reflects the potential for love and healing in a way rarely addressed within spiritual communities.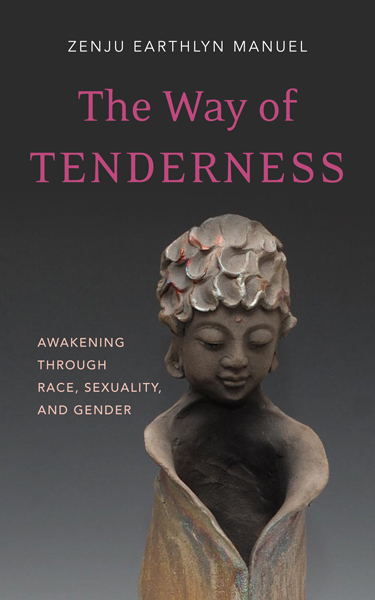 Right from the beginning, a question is posed: if race, sexuality and gender are illusions and social constructs, then what is the tension and ultimate hatred that arises with regard to them?
Many other thoughtful questions are asked, and not all are answered. How does one grow and challenge one's own values when necessary in the midst of contradictions, lived experiences and what we do to each other and ourselves? More importantly how do we heal and experience awakening?
Zenju shares with us that liberation is possible. Rather than examining race, gender and sexuality as separate entities, she explores them as integral in relation to awakening, encouraging us to look to the "interrelationship among us."
Imagine with me that the book is written like a quilt. The fabric holds the theme in which Zenju suggests that social constructs of race, sexuality and gender are explored through awakening by the way of tenderness. Woven throughout are boldface comments and questions that introduce different themes, threaded in a variety of colors. These colors indicate the topics, sewn with bold and subtle hues that emphasize the fabric. What makes the quilt a beautiful work of art is that compassion, love and tenderness hold it all together.
There are two main sections: "Multiplicity in Oneness" and "Body as Nature." Each section begins with a life story framed within the context of the chapter. For example, in the beginning of the "Body as Nature" section, Zenju shares a story in which she realizes from her mother's response that a lifelong journey of understanding living and suffering through her own body has begun. As she states, "We perceive our reality through our bodies." The embodiment of lived experiences influences our perception of the world and how we navigate through it on a daily basis.
"Multiplicity in Oneness" is the earlier section. Here she explores the concept thus: "an inclusivity which underlies oneness and being aware requires we recognize the collective nature of our lives. When we see multiplicity as the varied expressions of nature we are able to understand that all living beings are on this planet within this oneness. This also includes an awareness of the body itself as an inherited form of nature." In other words, we are all interrelated.
She goes on to say, "Inclusivity lies at the heart of understanding multiplicity in oneness as a way of tenderness, as a way of facing the challenges of the body as the location of awakened experience. These two also indicate that identity exists and that there is a natural identity that exists alongside contingent sociopolitical and emotional ones."
The "Body as Nature" section suggests we can experience liberation within the body. Zenju states that our bodies are the places through which we make meaning of our lives. Some people hold the belief our body holds all our memories.
Some individuals are more directly impacted, influenced, wounded and reinjured through the "varied forms of life" in terms of race, sexuality and gender. And some are not. Although the social constructs in some circles are considered illusions, for many people they are not. Coming to an understanding of liberation through the lived experiences and impact of these realities can be accomplished through compassion and tenderness with a willingness to be with the difficulties of internal, external, societal and intergenerational wounding and harming. As practitioners we know that suffering exists and there is an end to it as well. Spiritual awakening is not easy.
I know social constructs directly affect people who live with these realities, and they affect those who might feel they are not touched or impacted—the ripples affect us all. How do we understand the root of our suffering if we are not willing to explore it? Most of the enduring pain is directly related to how one perceives oneself as separate, and yet it is not that simple. We experience daily reminders that our lives are impacted, and not always in pleasant ways. Society doesn't let us forget that in a world where so much lack of tenderness exists, it is an ongoing challenge to cultivate tenderness. Yet it is possible and necessary.
For people who have a history of trauma, a way of tenderness can seem scary and yet exhilarating. Allowing oneself to experience vulnerability is an ongoing process of healing. It is also an opportunity to experience liberation moment to moment. Zenju so eloquently reminds the reader that "our healing does not have a deadline." There are no exceptions.
Although Zenju's story and my own story are different, many of the contexts are similar, because I know from my lived experiences that liberation is possible. Compassion with an ongoing forgiveness practice and bathed in tenderness has made freedom real for me. I appreciate what she has written in placing a very comprehensive and detailed understanding of awakening through race, sexuality and gender as the way of tenderness.
Tenderness invites a willingness to be vulnerable, to show up with an emotional rawness and have a sense of courage, to take a risk (or risks) knowing you want life to be different, believing it can be, and doing what is necessary for it to happen. As Zenju shares, "Sometimes we have to leave the comfort of home, as the Buddha did, in order to discover truth. Truth often emerges through discomfort." Through the personal reflections and insights gathered from life and within a Buddhist sensibility, she has made it very clear that "complete tenderness is a sense of learning, wellness, and liberation."
__________
Rev. Zenju Earthlyn Manuel, PhD, an SFZC alumnus, is a Zen priest, teacher, author and artist (see bio). There are many opportunities to hear and discuss this topic and others with Zenju:
Wisdom Publications offers a 20% discount on copies of The Way of Tenderness for SFZC community members. To order from Wisdom Publications online, enter discount code SFWT04. Alternatively, copies are available at the Zen Center Bookstore, where SFZC dues-paying members receive a 10% discount.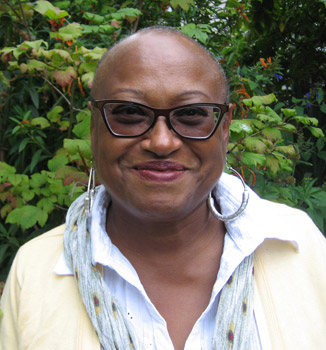 See also this review by SFZC alumnus Catherine Gammon.
Shahara Godfrey has followed the teachings of the Buddha since 1989, with her primary practices in compassion and social activism. She has completed the Community Dharma Leadership Program and the Path of Engagement programs at Spirit Rock, and received her PhD in humanities, with a focus on transformative learning and change, from the California Institute of Integral Studies. In addition, she is a core teacher at the East Bay Meditation Center in Oakland, CA.