Visit branchingstreams.sfzc.org.
Zen Center's Branching Streams network is branching out in a new way. A website was launched earlier this month that is dedicated to affiliate sanghas, offering the network's growing membership new ways of supporting one another. SFZC Branching Streams Liaison Steve Weintraub says he looks forward to watching how extensive use of the website will contribute to further "knitting our practice at the different centers together."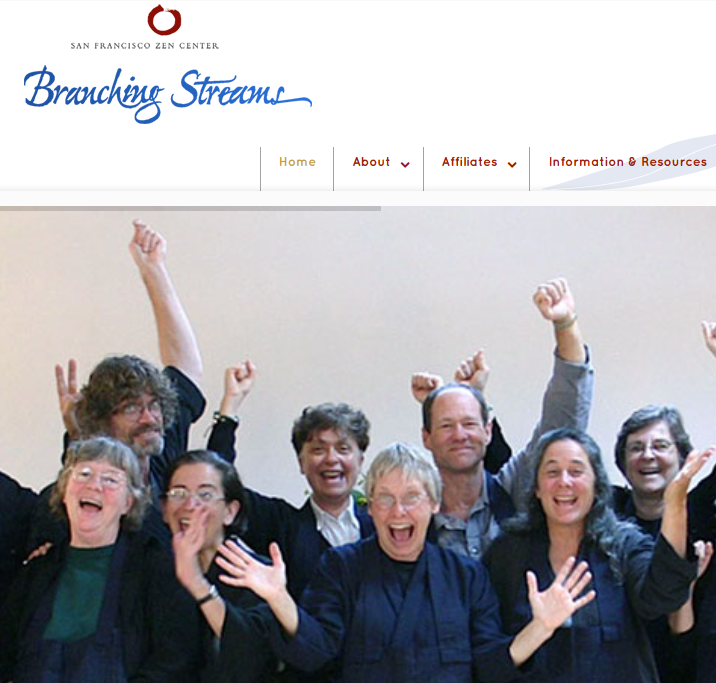 A significant expression of Zen Center's commitment "to make accessible and embody the wisdom and compassion of the Buddha," the new website extends the ease of information- and resource-sharing among groups far beyond the biannual meetings when representatives come together in physical space. In cyber space these connections are readily available—and not only for the guiding teachers; the interactive features of the site are intended for all members of the sanghas and the general public.
The site makes it easy for anyone with an interest in San Francisco Zen Center to keep up with member groups' news and events, read sangha profiles, and use the directory to locate affiliated groups in a particular area. Also, any member of an affiliate sangha is encouraged to participate in the forums, which contain ongoing discussions on topics of importance to members, leaders and teachers, as well as a calendar of events.
A Little History
Over the years as alumni have scattered from SFZC temples and formed new sitting groups and dharma centers in the lineage of Suzuki Roshi (now more than 50 centers in seven countries), the need for deepened interconnection and mutual support among the groups has heightened. The name Branching Streams comes from a line in one of Suzuki Roshi's favorite texts. In the poem "Sandokai," or "The Harmony of Difference and Equality," Zen Master Sekito Kisen addresses how the oneness of things and the multiplicity of things coexist.
From an initial 15 groups in 1987, Branching Streams has flowed on and continues to grow. Recently, with the inception of the SFZC Fellowship Program, it has even begun to send teachers as well as teaching support staff on a short-term basis to affiliate sanghas as needed. As mentioned earlier, conferences are held every two years, and it was discussions at the 2012 meeting that eventually led to the development of the website.
Fortunately some very specialized help was available to get it off the ground. Layla Smith Bockhorst, who designed, implemented and is maintaining the site, is herself a transmitted teacher in Suzuki Roshi's lineage and the leader of a Branching Streams affiliate. Layla brings to her work an "inside" understanding of the project's needs and its potential.
(More on the history of Branching Streams…)
Close-Ups: Getting to Know the Affiliates One by One
Branching Streams profiles, which have been appearing in Sangha News for more than a year, offer a taste of our lineage's practice as its expression changes (and doesn't) in different locations and circumstances. Now profiles will begin appearing on the Branching Streams site as well as the Sangha News blog each time one is published. You'll be able to find the most recently featured profile front and center on the Branching Streams home page. The first to appear in this profile spot is, appropriately, Layla Smith's own Open Circle Sangha in Helena, Montana—where cowboys become priests!
The plan is to continue adding these featured stories regularly so that all sanghas eventually have a profile. Previously eight affiliates have had profiles in Sangha News, and Open Circle Sangha makes nine: stay tuned for more to come.
Please enjoy exploring all the new website has to offer.