A Branching Streams sangha profile
Helena has a strong Catholic heritage, and the magnificent St. Helena Cathedral is visible from everywhere in town.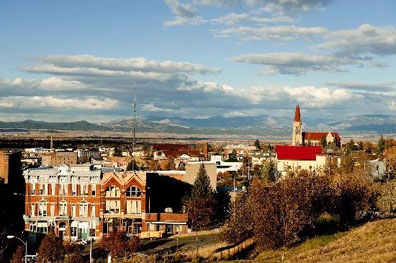 Open Circle is one of two Branching Streams affiliated groups in Montana, along with the Bozeman Zen Group. We began in 1984 when David Cooper, who had spent a few weeks at Tassajara during the winter of 1973-74, invited people to meditate with him in his apartment. Over the years since, there have been many changes, in both the place where we sit and the people in the group, with David Cooper being a constant presence throughout. Through his efforts and that of other committed participants, weekly meditation has been offered ever since 1989. Today an average of 10 to 12 people participate regularly.
We sit in a historic brick building built in 1883 that overlooks the city and the nearby mountains. Originally a Catholic school established by nuns, today Immaculata Hall houses a small independent elementary school. We offer a Sunday morning program of zazen, service and discussion. Some of us have been giving Way-Seeking Mind talks, and guest teachers visit from time to time.
For the last 14 years we have held an annual Practice Intensive of one or two weeks in the spring, led by Gyokujun Teishin Layla Smith, our primary guiding teacher, who visits regularly from the Bay Area. During the intensive we sit two periods every day in the morning, and one in the late afternoon; have morning tea and an evening class; and end with a one-day sitting. Four sangha members have sewn rakusus under Layla's guidance and received Jukai (lay initiation).
In April of 2014 Bill Milton, a rancher from central Montana, received priest ordination from Layla, who was assisted in the ceremony by Karen DeCotis, the guiding teacher of the Bozeman sangha. Bill is taking on more of a leadership role for the group. He is (to our knowledge) the first Zen priest to be ordained in Montana! You can read the article here that appeared in the local newspaper.
For more about Open Circle Sangha, please visit our website, www.montanazen.org.
__________
Open Circle Sangha's guiding teacher, Layla Bockhorst Smith, is also the designer and webmaster for the new Branching Streams website, just launched this month to facilitate greater connection among the network. For more information, please visit the website to read About Branching Streams and peruse the directory. You can also email branchingstreams@sfzc.org.