A Branching Streams sangha profile by Ed Velasco
Our center is called Akazienzendo, "zendo under the acacias," and is named after the trees that shade the street on which it is located in Berlin. We see the image of the acacia tree as a symbol that stands for a blossoming of the dharma.
The idea for Akazienzendo was conceived jointly by Ursula Richard, a practitioner and dharma publisher in Berlin, and Bernd Bender; they both opened it in 2012. The center is in the central district of Schoeneberg, a neighborhood that is home to people of diverse backgrounds, including a vibrant LGBTIQ community and many artists. Apart from an abundance of cafés and eateries, the neighborhood features an array of multicultural and spiritual organizations, the city's oldest "dharma bookstore," and an established and thriving alternative health and wellness community. We share the bright and airy rooms of the center with our friends in the Tai Chi Chuan School Berlin.
Akazienzendo provides a location for meditation and joining together in quietude, with regular zazen, one-day sittings and sesshins, study groups, and cultural events with a Zen perspective. We are set up as a nonprofit and depend on donations and member dues to support all activities. In the spirit of our neighborhood and city, we welcome people of any ethnic, political, sexual and religious background, thus bringing harmony to others, our environment and ourselves. From our beginnings in 2012, the vision of the center has been to bring beginner's mind to an "old Europe" that can seem to be stuck in old ways. Our spiritual teacher is Bernd Bender, who trained at SFZC, studying with Reb Anderson and receiving lay dharma entrustment from Michael Wenger.
In 2013, we were honored to receive Reb Anderson in Berlin, who performed the Kaigen Kuyo ("opening of the eyes") Ceremony to inaugurate the center and celebrate our first year of regular practice. Afterwards he led a silent weeklong sesshin called "Awakening to Our True Body" in the countryside north of Berlin. The event was well-attended by people from Germany and abroad, and it helped to further establish a community of practice associated with the center.
A few months later, we celebrated the opening of a small zendo built through the inspiration and love of our sangha members Charlotte and Gisela on their lovely lakeside farm in Obersdorf, in the countryside east of Berlin. The event in Obersdorf immediately sparked planning for more collaboration at this location. We have since returned to hold Akazienzendo's first-ever rural sesshin at this location, with the next one scheduled this spring.
The acacia can also be seen as a symbol for renewal in this city considering its special history fraught with atrocity, division and tenacious rebuilding. Berlin in its current form is only 25 years old. Last year saw the 25th anniversary of the fall of the Berlin Wall, which from 1961 to 1989 served as a physical and ideological barrier and blocked free movement across the city's quarters.
While flourishing in its own way, the city embodies the legacy of this division that carries into every aspect of contemporary life here. This is evident in the city's remnant of communist architecture, the socialist monuments still sprinkled around town, and a large struggling population of unemployed and low income residents, many from former East Germany. Accordingly, Berlin can sometimes be rather divided between "old" and "new." (Cont. below.)
In addition, the city hosts a mix of residents from the established anti-commercial and intellectual leftist scene, artists, a multitude of students, the German political elite attached to the new capital administration, the third largest Turkish population outside of Turkey, and an emerging (and wealthy) creative, tech and start-up scene, driven largely by European and other high-income newcomers. There can be friction between these groups, yet there is a prevailing sense of optimism, of moving forward and of a new beginning.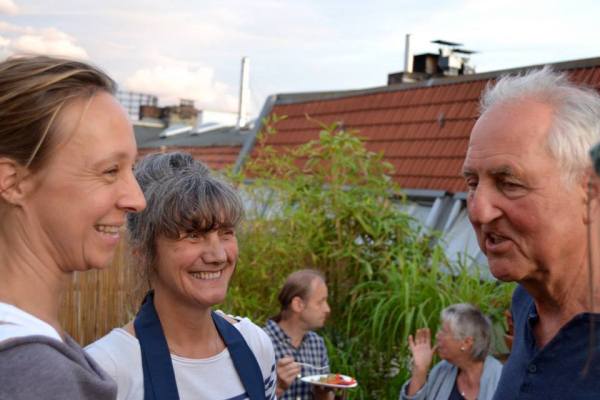 In our own new beginnings, Akazienzendo's challenge has been to identify and meet the various needs of these many converging communities. The existing Buddhist presence in Berlin offers a diverse array of options, distinctly colored by the influence of teachers that spread Buddhism to Europe around the time when Shunryu Suzuki came to the US, but ranging also to current crossover and secular trends. In this complex spiritual landscape, Bernd and the sangha have reached out and begun a dialogue with other spiritual communities and mindfulness-based organizations to grow and sustain our practice.
Our own branching streams extend also into the terrain of "new Europe." Bernd has been supporting Zen practice at Felsentor Center in the Swiss Alps, which focuses on meditation courses and retreats in various Buddhist traditions, as well at the first Zen center in Athens and its new satellite zendo on a Cycladic island in the Aegean Sea. Our affiliation with these friends has provided opportunities to deepen our practice in breathtaking settings, but more importantly it develops connections with our European neighbors whose communities are in very diverse cultural, economic and sociopolitical areas. As such, our vision focuses not only on bringing together communities in Berlin but also on building bridges in Europe and abroad. To continue to do so, we actively seek feedback from our international members and visitors who might show us what's on their minds and be able to help us better meet their practice or other needs.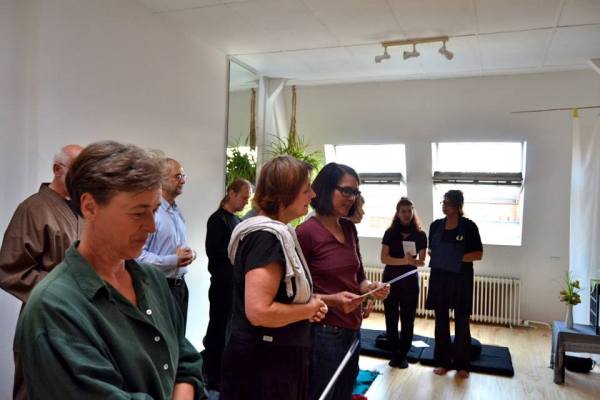 Akazienzendo remains dedicated to bringing the spirit of Suzuki Roshi's tradition to people in Berlin. For the coming year we set ourselves the goal of growing and broadening our community, and with that, securing our financial health. Our affiliation with San Francisco Zen Center inspires us to remain a home in the middle of impermanence with a practice style that enables people to come as they are and to join a community that speaks and listens, is open to feedback and explores Zen in daily life. We are all dharma-friends, and welcome anyone to come in and sit with us in Berlin.
You can also visit us at our website, www.akazienzendo.de, or drop us a line: info@akazienzendo.de.
__________
Visit SFZC's website for a directory of Branching Streams sanghas, or for more information, e-mail us at branchingstreams@sfzc.org.