Last Friday evening, four young men were shot and killed near City Center's street corner in San Francisco. For Zen Center residents and neighbors, it was a shocking reminder of the tragic violence that plagues our neighborhoods and cities. With heavy hearts we offer our condolences to the families and friends of the victims. (For coverage of the news story: http://goo.gl/YbEzbq.)
On Monday a community march and prayer vigil was organized by District Supervisor London Breed, in partnership with "Healing for Our Families and Our Nation."  It began at 6 pm at the African American Arts and Culture Complex on Fulton Street, with speeches from local officials, clergy, mentors, family members and others. When several dozen marchers arrived at the corner of Page and Laguna (across from City Center) later that evening, they were chanting, "All lives matter!" Central Abbess Linda Ruth Cutts, President Susan O'Connell, Tanto Rosalie Curtis and others from Zen Center joined the march, expressing support for the community. (For a fuller report on this event, see the local blog Hoodline.)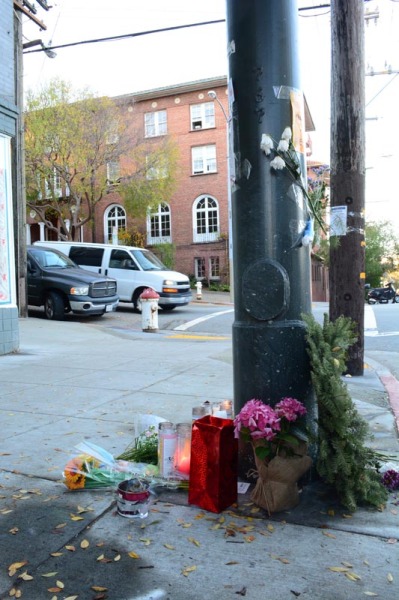 Early in the morning on the day following the shooting, dharma teacher Shosan Victoria Austin had initiated a marker for the event by posting a sign on a pole close to the scene with some flowers. It reads: "1/9/15 Drive By / 4 People / Rest in Peace." She said she was glad it was there when relatives of the victims began visiting the site soon afterward. Gradually others added more signs, flowers and candles, creating a focal temporary memorial site (pictured right).
The Saturday dharma talk that day addressed this killing in particular, as well as other recent acts of violence that trouble us from around the world. (The talk by Vice President Jisan Tova Green, "Our Shared World," is available on our live stream site.)
A video (below) by NBC News taken Monday before the vigil included several statements from Zen Center staff and residents. Those who were interviewed included Abbess Linda Cutts, who said, "We can't somehow step back and say it belongs over there. We participate in the conditions for things like this to happen; we have responsibility." (See the video titled "Vigil for 4 Shot Dead in SF's Hayes Valley" on this page, toward the bottom.)
The vigil ended around 8 pm Monday with a moment of silence and a prayer.