What pleasantly surprised me with regard to the online practice period was the experience of it being a bridge between monastic and urban practice, while providing a sense of intimacy and safety that developed instantly.  —Maura McAleenan

by Lydia Linker, Online Programs Coordinator
The ways that technology makes our world smaller are reaching even to monastic-style practice. For years already at City Center many non-residents have been joining the community in practice periods. This requires committing to visit the campus for select events while continuing to work and live outside the temple. Recently City Center has taken this option to a new level to reach an even wider sangha through online participation in practice periods.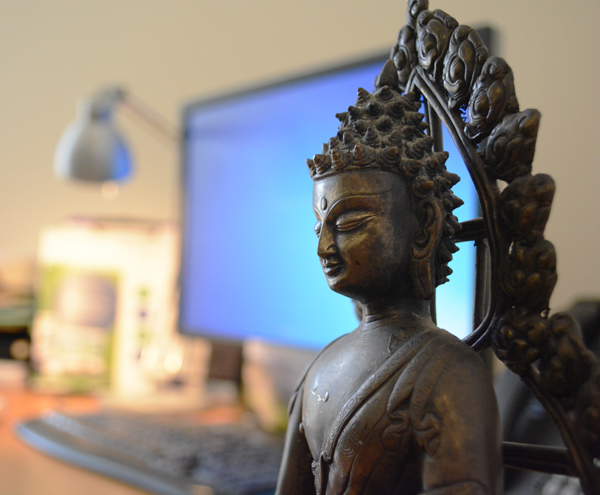 Practice periods represent significant chunks of Zen Center life. For several weeks once, twice or three times a year, residential and non-residential students together commit to a slightly more rigorous schedule of zazen, study, and community and dharma events as a way to intensify practice.
Zen Center's online practice periods are designed to offer enough structure that those with limited or no ability to attend in person can experience a time of focus on practice in community. Organizers hoped to make the program flexible enough to accommodate individual versions of everyday work and family life. Instead of convening with the sangha at the temple, participants meet each other on a dedicated website that becomes their support center online.
The Winter Practice Period in January 2015 includes the third version of this special offering. Urban Temple Dharma Teacher Ryushin Paul Haller will lead participants with the theme "Continuous Practice: What's Happening Now?" Comments from Paul on this theme appear later, following the testimonials section below.
Testimonials from Previous Online Participants
In this section, two online participants from each of the two previous practice periods shared with me some of their experience. In the excerpts from the interview shown below, an answer has been selected from one of the participants for each question (except the last, which shows both).
Allee Blatner participated in the Spring 2014 Online Practice Period from her home in Texas. This was our pioneering online venture, led by Shosan Victoria Austin and Tokuden Shinki Mark Lancaster on the theme "Come As You Are." This past fall, Maura McAleenan joined in from Northern Ireland for the practice period led by Abbot Rinso Ed Sattizahn on "Everyday Enlightenment: Shunryu Suzuki's Expression of Zen Practice."
How was it for you to participate in the practice period online?
Allee: The teachings/lessons challenged me immediately in my everyday life with family and friends. It was exciting and demanding. I was always thinking about the concepts, finding ways to apply them, and discovering that they were coming up all over the place, and that I had to address them with new behavior.
Also, we had Skype meetings with smaller, special interest groups, and mine were always amazing and very intimate.
If you can, how would you describe the similarities and differences between online and in-person participation in a practice period?
Maura: I have participated in residential practice periods at City Center and Tassajara. I love monastic practice: being in that collective space for a dedicated amount of time and sitting in the zendo, it's all invaluable, and the latter I missed. What pleasantly surprised me with regard to the online practice period was the experience of it being a bridge between monastic and urban practice, while providing a sense of intimacy and safety that developed instantly.
I felt the online website had been mindfully created, was user friendly, secure for members only, and encouragement for practice was given through practice suggestions. This was more focused and relevant and challenging to me personally than I have experienced attending a residential practice period.
What did you want to gain from doing an online practice period? Did you feel that you received what you were looking for?
Maura: I wanted to connect formally with practice at SFZC, to feel the support of a practice center and wisdom of practice there. I felt I received so much more from participating in the online practice period than I could have imagined. Abbot Ed said that Shunryu Suzuki was always accessible, and the online practice period felt like that—guidance and practice were accessible. The online practice period facilitated personal exploration and discernment of practice that is still unfolding for me.
Can you share a specific incident from the practice period that was memorable?
"The online companionship and caring nourished my body and spirit. I felt the sangha around me all the time."
Allee: I had the most amazing personal event happen, unplanned, after I registered. I needed to have an emergency appendectomy. I was home-bound for days and limited in what I could do in the weeks following. The online practice period was a gift of grace that transformed not only my recovery period but also my deepest perspective on life and possibly dying. I know this is a dramatic statement to make about a simple laparoscopic appendectomy; however, there was a neuroendocrine canceroid cyst in my appendix, and the doctor was concerned that the other cysts in my body might be part of a whole body invasion.
The lessons, readings, teaching, discussions, meditations, and sharing that were part of the online practice period had special meaning to me as I brought them into focus. I appreciated with compassion the wisdom of others' experiences with the book and concepts and practices we were studying. The online companionship and caring nourished my body and spirit. I felt the sangha around me all the time.
That profound sense of release, focus and inner calm has become my core practice from which I live more often than before, and I can return to it in the midst of all kinds of everyday activities. After many months of tests, I am free from any other cancer.
Is there anything else you'd like to say about your online experience?
Maura: I would highly recommend the online practice period. It's a great way to connect for experienced practitioners living at a distance from a practice center, and it is an open invitation to beginners to take a step into a practice period.
Allee: It truly is the insight of innovation for our time and culture to adapt the delivery of the teachings and practice of Soto Zen to many people.
Coming Up: An Online Period of Continuous Practice, with Paul Haller

Urban Temple Dharma Teacher Ryushin Paul Haller offered these comments below on the upcoming Winter 2015 Practice Period at City Center, titled "Continuous Practice: What's Happening Now?" This theme comes from Dogen's "Gyoji" fascicle. "Gyoji" roughly translates to "continuous practice." Not only is this fascicle the foundation for the practice period, but it will also be a focus of study throughout. Paul states:
The common experience of "continuous practice" can be found when we commit to zazen on a regular basis. During zazen, we start to notice our mind. Sometimes it's concentrated; sometimes it's distracted; sometimes it's in turmoil with intense emotions; and sometimes it's serene. Whatever your mind is doing, you continue to do zazen.
And then, over time, you start to notice that something is happening, an integration of diverse experiences that all these mental states contribute to. They contribute to a vow to continue to practice. Each mental condition contributes to this vow. When we sit zazen, it's not in order to have a specific experience, but to continuously bring mindfulness to whatever we're doing and to be open to whatever we're doing. "What's happening now?" represents the attitude that we can bring to any situation we arrive in. Asking this question verbally and nonverbally turns us toward practice rather than the judgment or opinions that we're having.
Urban practice requests an adaptable and durable effort that flows from one situation to the next. Our collective inquiry will be to examine the understanding, dedication, guidance and support needed to sustain these elements of practice in the midst of the myriad activities of each day.
To join Paul and others online and in person at City Center to explore this collective inquiry further, or for more information about this opportunity, please visit the online participation page. If you have further questions, registration and general inquiries may be directed to ccdirectorassist@sfzc.org.
Photo credit: Buddha and screen by Chris Shelton.