Photos by Carla Koop
Green Gulch Creek is flowing in its new meandering bed, as shown below. As work for the Creek Restoration Project continues, other organizations are taking part. Last Sunday during the monthly Watershed Work Party Day, this time led by STRAW (Students and Teachers Restoring a Watershed), around 100 new alder trees were planted along the bare banks. Earlier this year through the kindness of the National Park Service and the Parks Conservancy, the alders had been harvested from the neighboring valley.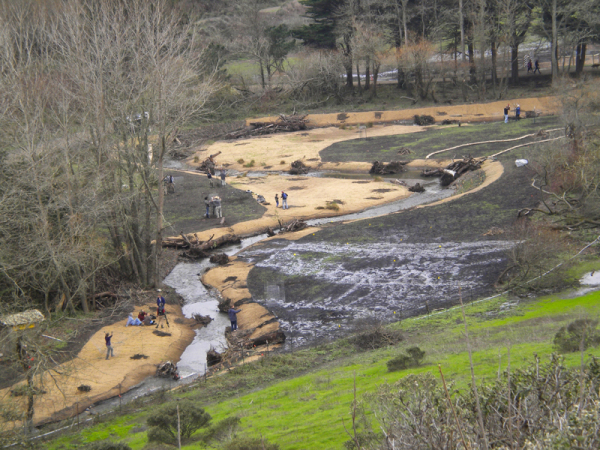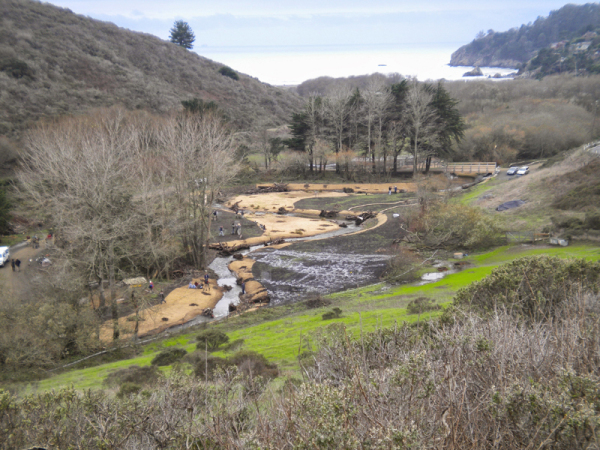 More work will continue this coming Saturday in an event called Helping Hands on Green Gulch Creek, led by members of the AmeriCorps Watershed Stewards Program, along with Green Gulch Farm, the Marin Municipal Water Department, and the Golden Gates National Parks Conservancy. Volunteers are invited to preregister to participate (email volunteerprogram@marinwater.org or call 415.945.1128).