There's a collective urgency now, which I hope is enough to inspire sitting and action.
The above quote captures the tone from a presentation on October 3 by City Center resident Milo Burn after his return from the People's Climate March in New York on September 21. Milo traveled there on "the Climate Train," which made the cross-country trip an event in itself, as 170 activists spent travel time together in workshops and inspiring each other, all while on board Amtrak.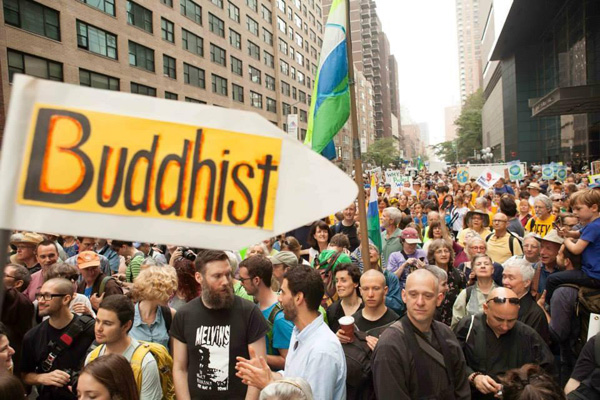 Other SFZC representatives also attended the march in New York (pictured in the bottom right of the photo, right), including Central Abbess Eijun Linda Cutts, President Susan O'Connell, Branching Streams Coordinator Steve Weintraub, Program Director David Zimmerman, GGF Conference Coordinator Shokuchi Carrigan. This group joined a contingent from Brooklyn Zen Center, along with hundreds of thousands of other concerned people marching to make a statement to world leaders gathering for the UN Climate Summit.
Having recently found inspiration in activism, or specifically what is sometimes referred to as "engaged Buddhism," Milo is now organizing events sponsored by the City Center branch of the Ecosattvas, a Zen Center group dedicated to environmental awareness. The next event is this Friday, October 24, at 7:30 pm with longtime dharma teacher and author Thanissara, who also rode the Climate Train. She will offer a poetry reading from her new book, Heart of the Bitter Almond Hedge Sutra, followed by a talk about the climate emergency. [More about this event.]
In his presentation, Milo shared photos and stories of his experiences learning from and joining with other activists. Most important, he focused on how he sees Buddhist practice meeting environmental and social issues. He said that, for him, although he had "been aware of these issues for some time, it's through dharma practice that this awareness has become intensified and translated into action."
Continuing, he proposed that an effective approach to the problem would require not only "sustained awareness of this painful and confusing situation," but also "the joy of free awareness, not to slip off to the fog of desires, distractions, or sense of separateness." He saw Buddhists and other spiritual seekers as having a critical role in the climate movement, which "needs to have the support of spiritual practitioners to make it as mindful and harmless as possible." Milo's closing statement provided some refreshing optimism: "We can make this call to activism for climate crisis a mindfulness practice. We can do it—maybe. At least we can engage with it certainly in a heartfelt way…."
To explore further and engage with Milo and others on these issues, join us at City Center for upcoming Ecosattvas events on select Friday evenings, including the reading by and discussion with Thanissara this Friday.