Entrepreneur-Humanitarian and Longtime SFZC Supporter Rudolph Hurwich Dies at 92
With select excerpts below from a fuller obituary, we honor Rudy Hurwich for his long relationship with San Francisco Zen Center. He had maintained a personal relationship with Abbot Rinso Ed Sattizahn at Zen Center since 1979, during Ed's term as SFZC president. Rudy's family has kindly named Zen Center as one of the organizations to which donations may be made in his memory. 
The following excerpts were taken from the full article on oaklandlocal.com.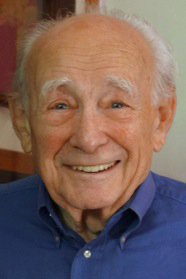 Rudolph Hurwich – serial entrepreneur and mentor, international businessman, inventor, philanthropist, investor and a behind-the-scenes supporter of numerous liberal causes and creative endeavors – died peacefully at his Oakland home on August 2, 2014. He was 92.
. . .
The Committee [a popular San Francisco improv comedy troupe] was among many nonprofit social and artistic ventures Rudy supported with management, mentoring or financial assistance. Other beneficiaries of his guidance ranged from late artist and jewelry-maker Laurel Burch and Marin-based Folkwear clothing patterns to the Zen Center of San Francisco. At various times over the past six decades, Rudy was a board member of many organizations that shared his values, among them the Pacifica Foundation and the Fort Mason Foundation. In 1979, he played a key role in founding and bringing to Fort Mason the Zen Center's celebrated vegetarian restaurant Greens. The New York Times has called Greens "The restaurant that brought vegetarian food out from sprout-infested health food stores and established it as a cuisine in America."
. . .
The Abiding Abbot of the San Francisco Zen Center, Ed Sattizahn, notes that "Rudy exemplified the ideals of a Buddhist life – wisdom and compassion skillfully expressed in the ordinary circumstances of everyday life."
. . .
Rudy also gave substance to his personal values with financial support for social-advocacy and humanitarian organizations, including – among many others – the ACLU, MoveOn, Planned Parenthood and the Union of Concerned Scientists.
. . .
The family is planning a celebration of Rudy's life on Sunday, October 19, 2014, in Oakland, California. Please email rudymemorial@gmail.com if you wish to attend. In lieu of flowers, the family suggests that you consider performing an act of kindness in Rudy's memory, or memorial donations in his name can be made to the following organizations:
ACLU Foundation of Northern California
Please indicate on checks and online that your gift is "In memory of Rudy Hurwich." Checks should be made out to "ACLU Foundation of Northern California" and sent to ACLU, 39 Drumm Street, San Francisco, CA 94111.
Web page for online credit card donations: https://www.aclunc.org/donate/tribute-gifts
Home page for general ACLU Nor Cal information: aclunc.org
MIT/Rudolph Hurwich (1943) Undergraduate Scholarship Fund
Please indicate on checks and online that your gift is "In memory of Rudolph Hurwich '43." Checks should be made out to "MIT/Rudolph Hurwich (1943) Undergraduate Scholarship Fund" and sent to MIT, attn: Bonny Kellermann '72, Director of Memorial Gifts, 600 Memorial Drive, W98-500, Cambridge, MA 02139.
San Francisco Zen Center
Please indicate on checks and online that your gift is "In memory of Rudy Hurwich." Checks should be made out to "San Francisco Zen Center" and sent to San Francisco Zen Center, attn: Vice President, 300 Page Street, San Francisco, CA 94102.
Web page for online credit card donations: http://tinyurl.com/pkwwrhh
Home page for general SFZC info: sfzc.org