Tassajara has an amazing array of accommodations available in the last two weeks of its guest season. There are multi-night stays available in just about all the rate categories. Call now to book!
Space is still available in the following retreats:
Bringing Yoga and Zen Home: Creating and Sustaining a Home Practice (Sep 1-4)
Courage and Intimacy: Exploring Women's Stories (Sep 1-4)
Getting to What Matters: More Love, Less Stuff (Sep 4-7)
Manifesting the Wisdom of the Body: A Zen Mind, Yoga Body Retreat (Sep 4-7)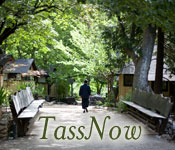 For questions or to reserve your room, please contact Tassajara Reservations by phone, 888-743-9362, or email. — NOTE: TassNow room availability updates refer only to last minute / near future availability at Tassajara. These updates don't necessarily mean that other dates aren't available. For all inquiries about availability and reservations at Tassajara, please contact Tassajara, as indicated above.