Tassajara has some great last-minute opportunities for solo travelers from Monday – Thursday during the week of August 11. We also have a couple of private cabins available on the weekend of August 15-17.
Interested in a last-minute retreat? Shared housing and space in Touching Earth, Creating Space or Zen Poetry available for a male retreat participant.
Tassajara last minute room availability for August 11-17:
Monday, August 11:
Courtyard 5 available for 1 night
Guest Practice (female) available for 2 nights
Thursday, August 14:
Yurt 1 (shared housing, male) available for 3 nights – add the Touching Earth, Creating Space or Zen Poetry retreat!
Dorm (female) available for 2 nights
Friday, August 15:
Pine 3 available for 2 nights
Stone 4A available for 3 nights
Cabin 16 available for 1 night
Dorm (male and female) available for 1 night
Sunday, August 17:
Cabin 15, Yurts 1 & 2, and Cabin 13 available for 1 night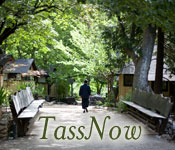 For questions or to reserve your room, please contact Tassajara Reservations by phone, 888-743-9362, or email. — NOTE: TassNow room availability updates refer only to last minute / near future availability at Tassajara. These updates don't necessarily mean that other dates aren't available. For all inquiries about availability and reservations at Tassajara, please contact Tassajara, as indicated above.