Text and photos by Shundo David Haye
Zen teacher and photographer Shundo Haye is someone who loves the outdoors. He describes the delightful peculiarities of the Green Gulch terrain and offers a selection of photos from his own explorations in a slideshow below. He co-leads The Inner and Outer Worlds: A Daylong Retreat with Zen, Photography and Hiking, with Jokai Carolyn Cavanagh on Saturday, August 9.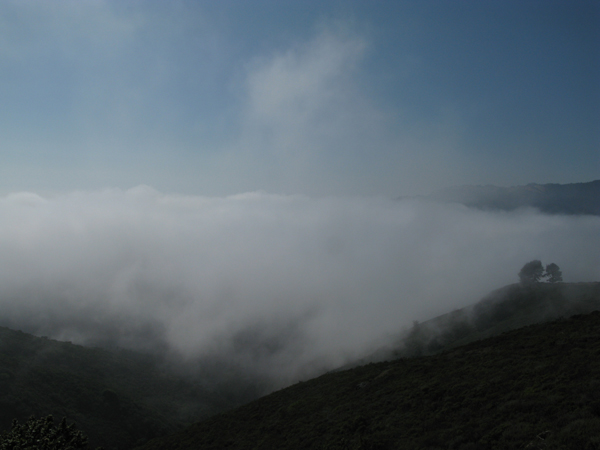 Green Gulch is its own little world. Often you can crest the top of Highway 1 from Mill Valley, and where you would expect to see the ocean, there is suddenly just fog. The temple lies in a hollow—almost, but not quite, cut off from the sounds of the highway. When you climb to Coyote Ridge, you are somehow afforded a glimpse of the downtown towers of San Francisco, closer than you would imagine, but also distant, beyond the folds of Tennessee Valley and the Headlands.
In warm weather, raptors will be calmly riding the thermals; in the fog, the crows have their day, allowing the wind to chase them around. Perhaps a hare, traces of a bobcat, mountain bikers, trail runners and hikers all with lungs full of the clean air.
Then there is the ocean, and the arc of coastline to the south, and after the windy exposure of the ridge, a descent to the safe bay of Muir Beach, where Redwood Creek completes its short course from the contours of Mount Tamalpais. From the exposed rocks and sand, wending back up the fields to the confines of the garden and valley again, a completed circle.
[iframe src="https://docs.google.com/presentation/d/169CUyPbc84jPtzzxWNPtVzwpq8QWFP91Sau3bpalIgs/embed?start=false&loop=false&delayms=10000″ frameborder="0″ width="600″ height="480″ allowfullscreen="true" mozallowfullscreen="true" webkitallowfullscreen="true"></iframe]
__________
Shundo also maintains a Tumblr photo blog. For more information or to register for this workshop, visit The Inner and Outer Worlds: A Daylong Retreat with Zen, Photography and Hiking, striking off down the trail from Green Gulch Farm on Saturday, August 9.