I was intensely interested in the teaching of Suzuki Roshi and the practice of meditation, because I thought that it had a transformative power that was, to me, amazing.  —Narcissus Quagliata
Photos by Chris Shelton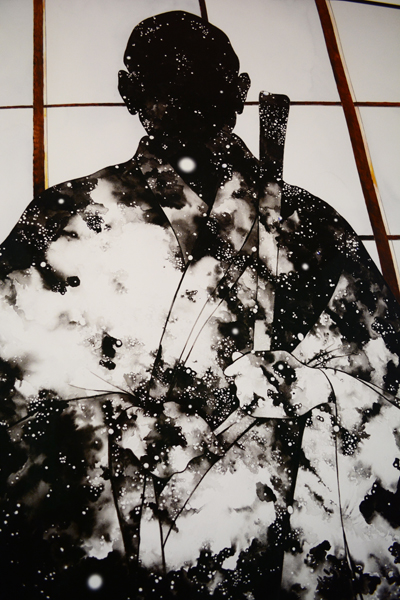 Renowned artist Narcissus Quagliata spent some formative time at Zen Center in the early 1970s, at the beginning of his career in stained glass. He returned to City Center last month to give a presentation recalling Suzuki Roshi's profound influence on his view of life and on the trajectory of his career (see video recording below).
One of the many pieces he showed and discussed was this  watercolor silhouette of Suzuki Roshi that he produced in 1979 during a difficult time in his life. "The only way I could evoke him was to make an image of him," explained Narcissus. "So I did a watercolor and then a stained glass window dedicated to him, and it's the first time I used a universe inside a figure."
The stained glass window is now at the Metropolitan Museum of Art in New York, but up until now he had refused to sell the original watercolor.
"I used this as a means to change the world from inside; I mean, I did everything I could to fix my world from the outside, and it didn't happen. So what I did is I decided that since I had a month to go before I was evicted, I would dedicate the month to doing this watercolor." Using a number one brush, he told how it took hours and hours every day. "And [Suzuki Roshi] was right: by the end of the month, the problems fixed themselves. I did nothing. All I did is fix myself."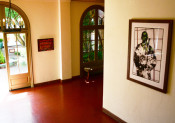 Having had numerous requests for the piece, Narcissus recently decided to produce a series of 100 prints, and he gifted the first two to Zen Center. Number 1 has now been hung at the bottom of the stairway on the first floor at City Center.
The artist has also generously allowed Zen Center to share this video of his presentation on May 9, 2014, with in-depth discussion of his art as well as his time here. The video opens with an introduction by Zen Center contemporary Jack Weller.

[iframe src="//player.vimeo.com/video/96048480″ width="600″ height="400″ frameborder="0″ webkitallowfullscreen mozallowfullscreen allowfullscreen>]