by Amity Bacon, Volunteer Writer
Photos by Shundo David Haye
Every Tuesday night, the Buddha Hall's tatami mats are covered with Bay Area 20- and 30-somethings who gather as a sangha. Several join the group sporadically throughout the year, some attend monthly if not weekly, and some can't seem to stay away. Meeting together for an evening of guided meditation and dharma text readings or exercises, they always hold lively discussions that explore the practice of Zen. They're called Young Urban Zen (YUZ), and this month their weekly gathering enters its third year.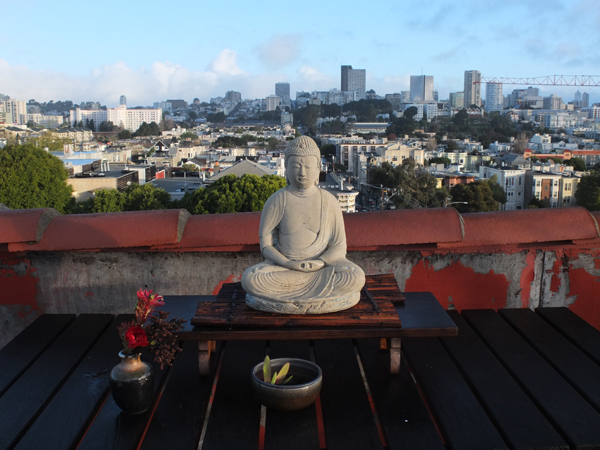 City Center's new abiding abbot, Rinso Ed Sattizahn, recently sat in on a few of the meetings. He says he was "impressed by the energy of the group, the feeling of the sangha, and the quality of the discussion."
For those who can't stay away, YUZ has provided a unique community of shared values—a place to deepen awareness, to share one's own experiences authentically, and to simply make new friends. Nick Shah, a frequent attendee, says, "YUZ creates a sturdy bridge between stereotypical young city life and monastic practice; it meets us where we are and allows us to explore our practice deeper."
Many members speak of the warmth and openness of the group and its space. Even in the heart of the city's bustling Hayes Valley, with its frenzied thoroughfares and clash of modern housing developments and hill-perched Victorians, the Buddha Hall offers a unique place of refuge.
Nick says that the idea of an informal group gathering in a formal Soto Zen temple is one of the things that makes YUZ unique. The combination of these different settings "complement each other very well," he says. "For example, I think it would have taken me much longer to do full bows if we hadn't discussed them openly at a YUZ meeting."
"Most people who come for the first time can feel the openness, the allowing of vulnerability that has been created in the space," says Mackenzie Stone, another active member of YUZ.
Hendy Sugiarto sees YUZ as a place to "experiment with how I can interact with my contemporaries in a more mindful way. I'm studying how it is to be authentic and honest and try to drop the layer of masks that I've consciously or unconsciously built up over my lifetime."
YUZ came from humble beginnings in the Conference Center next door to the main temple building at City Center, with three founding leaders who were longtime current or former residents of Zen Center: Shundo David Haye, Tim Kroll and Simon Moyes. At the first meeting in June 2011, they expected around 10 participants—25 showed up.
After YUZ's first gathering, Shundo reflected on the experience, writing in the Ino's Blog, "What felt best for me was the way that people expressed how this group really met a need they felt in their lives to be practicing together with people of the same age. There were people who were new to the city, people who were new to practice, people who had been practicing alone, and people who had been coming to Zen Center but were keen to be a part of this new format. Hopefully that enthusiasm will be sustained in the weeks to come."
He says there are now roughly 650 people that have attended and signed up to be on the YUZ mailing list. Fifty to 60 people now attend each week, making it one of Zen Center's most popular ongoing offerings.
Members of YUZ are very diverse, says Sierra Garthwaite, another frequent attendee and full-time student of clinical psychology. "People vary greatly among ethnicity, socioeconomic status, mediation experience, sexual orientation, spiritual beliefs, and gender (there is roughly an equal number of males to females)," she says. "The eclectic nature of the group gives the discussions substance."
She says that YUZ has allowed her to develop the skills to get out of her head and into her body.
Samuel Domingo has had a similar experience with YUZ. He reflects on the past few years he's spent as a member of the group: "YUZ has shaped my perspectives and reactions to the world. I feel that I don't judge others and myself as much. Perhaps the words aren't as loud …. I breathe life with more assurance and a grounded-ness during moments when life is feeling full and abundant, and when life is feeling anxious and hectic. I can actually enjoy my breath. It's such a small thing, and here I am reveling that this is such a big thing."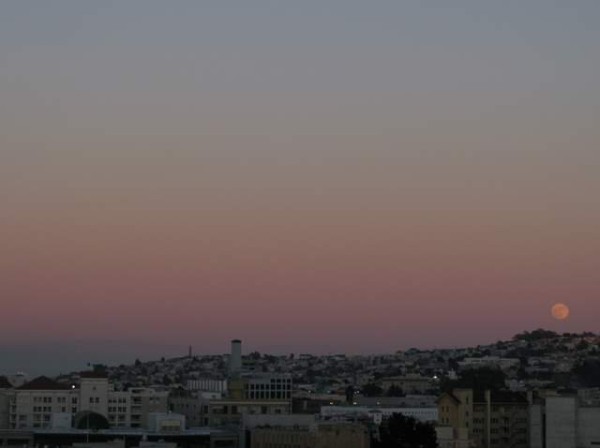 For many of the group's "young" practitioners, YUZ has offered even more ways to connect with a mindful community of peers. Beyond weekly gatherings at City Center, YUZ members enjoy group retreats and other outings. They have practiced together at Green Gulch, Tassajara, and Jikoji in the Santa Cruz Mountains. The group also gathers for parties, film screenings, picnics and community service projects, among other shared cultural interests.
Looking to the future, Shundo says, "I have great confidence that the group will continue to grow, and hopefully will continue to serve the needs of the people wanting to be a part of a community that practices together, and that values meditation, respectful interactions and mindful living."
__________
Happy birthday, YUZ! For more information, see the Young Urban Zen page, or come see for yourself, Tuesday nights at 7.