A Branching Streams sangha profile. This series of articles introduces sanghas affiliated with San Francisco Zen Center in the Branching Streams network.
by Laurel Ross
Ancient Dragon Zen Gate in Chicago is a robust, lively example of the wonderful flowering of serious Zen practice now happening throughout the United States.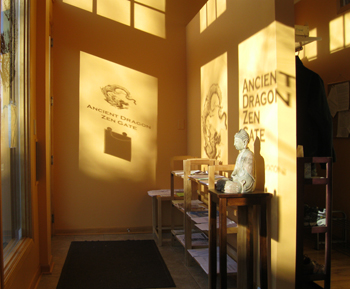 We are a welcoming community of practitioners committed to being a home for Soto Zen Buddhist practice, serving our city and the region in our nonresidential storefront temple in north central Chicago. We are exploring creative ways to be authentic to our practice and dharma tradition while also meaningfully reflecting our own cultural context. Our guiding dharma teacher is Taigen Dan Leighton, who trained for many years at SFZC's practice places and received dharma transmission from Tenshin Reb Anderson in 2000.
Ancient Dragon (or ADZG) is increasingly connecting with ideas and people from many other parts of the country and finds great value in the opportunity to deepen connections with other sanghas in the Shunryu Suzuki lineage through Branching Streams. A number of our practitioners have enjoyed the opportunity to engage in residential practice at Green Gulch or Tassajara. We value the teachings of the Soto Zen lineage conveyed to us by Dogen Zenji and Shunryu Suzuki Roshi. Our practice is based on the essential unity of practice and awakening, and the creative expression of the bodhisattva precepts in our everyday lives.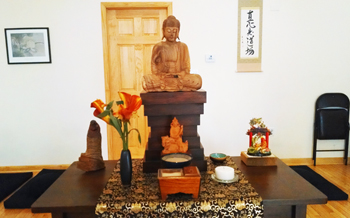 Though officially incorporated November 8, 2006, the origins of our group can be traced to a Dogen seminar given by Taigen in Chicago as a visiting teacher in 2003. This led to the formation of a formal sitting group that met in a practitioner's home and then in a Catholic retreat center. Taigen traveled to Chicago regularly to lead sesshins, give public workshops and provide guidance to the growing group. He relocated from California to Chicago in January 2007. ADZG moved in January 2009 to our storefront temple, where we currently have a core group of over 40 regular monthly supporters and a growing attendance of newcomers. Our temple is a lovely, cozy space between a jazz club and a Mexican restaurant near a major intersection and public transportation.
Zazen and dharma talks are at the heart of our offerings, with regular sittings Monday and Thursday evenings, as well as Sunday and Wednesday mornings. Every Tuesday evening a meditation and recovery group meets in our temple, and it is open to those in recovery from addictive substances and behaviors, with 20 to 30 participants each week. Half-day, one-day, or three-day sesshins are offered monthly, with a five-day Rohatsu sesshin in December.
Once a week, zazen and a dharma talk are offered in the University of Chicago's magnificent cathedral-like Rockefeller Chapel at the other end of our large city. This is led by ADZG priest Nyozan Eric Shutt, with monthly talks by Taigen and support by senior students from our temple, and it serves a diverse range of people beyond the university community.
Each spring ADZG has an eight-week practice commitment period open to all who wish to deepen their practice. During this time participants increase their commitment to zazen and attendance at sesshins, attend study and discussion groups, provide additional service to the sangha, and actively share their experience and questions with other participants, providing a noticeable energy boost in the temple. Taigen has performed 16 lay ordinations at ADZG and currently is training several priests he ordained.
ADZG sponsors regular seminars related to Zen practice given by Taigen and many others. In recent years guest speakers have included major Buddhist teachers and scholars such as Reb Anderson, Norman Fischer, Shohaku Okumura, Steven Heine, Gene Reeves, Kaz Tanahashi, Alan Senauke, David Chadwick and Myogen Steve Stücky (a couple years before his sad passing). When he spoke at ADZG, many of Steve's old friends attended who had known him when he served in Chicago as a conscientious objector in the '60s. Senior ADZG students also regularly give talks, and many of our dharma talks are available on our website, ancientdragon.org.
Our classes are extremely varied. This spring, for example, we offered a five-week Introduction to Buddhism class taught by Taigen and senior students; training in oryoki; and a Way of Tea seminar led by Akiko Sato Sensei. We are also engaged in activities to support awareness and kindness in the larger community. We have participated in Chicago interfaith activities, and held a number of Peace and the Environment Forums through which local experts presented information on Chicago-region environmental issues such as urban tree stewardship, biodiversity conservation, clean power plants and invasive species. ADZG hosts monthly meetings of the Chicago chapter of the Buddhist Peace Fellowship and supports their activities, such as public talks on engaged Buddhism and participation in a range of peace and environmental actions.
ADZG is increasingly committed to finding ways to bring the families of sangha members into our practice. Some of our events that focus on this goal include Chinese New Year, traditional Buddha's Birthday celebrations, our October Segaki Ceremony, and an annual sangha picnic, offering family members opportunities to join the community in a spirit of fun and fellowship.
Our guiding dharma teacher, Taigen Dan Leighton, is an author, scholar and translator whose books include Faces of Compassion: Classic Bodhisattva Archetypes (2003); Visions of Awakening Space and Time: Dogen and the Lotus Sutra (2007); and Zen Questions: Zazen, Dogen, and the Spirit of Creative Inquiry (2011). His next book, Just This Is It: Dongshan and the Practice of Suchness, will be published early next year.
Please visit and practice with us when you are in Chicago.
__________
Visit SFZC's website for a directory of Branching Streams sanghas, or for more information, e-mail us at branchingstreams@sfzc.org. For more about ADZG, visit ancientdragon.org.