Need a last-minute getaway? There are a smattering of private cabins and shared rooms available in the final week and a half of May!
For this last glorious week and a half of May, we've got some one-to-three night stays in private accommodations. There are also opportunities to stay for multiple nights in the dorms, shared housing, and guest practice.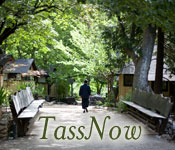 For questions or to reserve your room, please contact Tassajara Reservations by phone, 888-743-9362, or email.
—
NOTE: TassNow room availability updates refer only to last minute / near future availability at Tassajara. These updates don't necessarily mean that other dates aren't available.
For all inquiries about availability and reservations at Tassajara, please contact Tassajara, as indicated above.