A list of current needs for donated items on the farm at Green Gulch, by Farm Manager Qayyum Johnson
Working Bicycles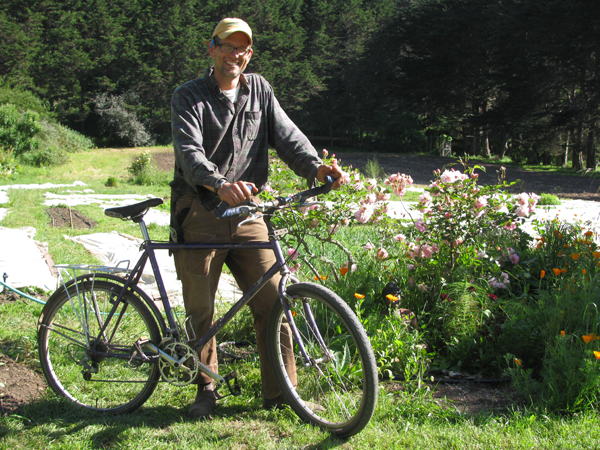 Green Gulch Farm is looking for working mountain bikes of all sizes (we have a diverse-sized crew this season) for use getting from the compost yard to the kitchen, and back to the kitchen garden, tool shed, and then down to the third field lettuce patch lickety-split. Suzuki Roshi said our practice is all about repetition—which means going up and back down the farm road many many times in a growing season.
We use our bikes instead of driving the farm truck all day. It's good exercise and efficient, and at least half of the time we're heading downhill!
Please consider donating BICYCLES IN GOOD WORKING CONDITION. High-end road bikes with thin tires are not what we're looking for. We want simple, rugged, and functional rides. They don't need to be pretty, expensive or rarefied, but chains, brakes and working shifters would be most appreciated. Beach cruisers could be considered if they're geared so we can easily pedal up to the zendo at the end of the day!
General Donations to the Farm
Tools, Equipment, Materials
While I'm holding the begging bowl, the farm is a great place to offer any useful material items that you may be getting rid of (hand and electric tools, steel, construction equipment, plumbing supplies, hardware cloth, work gloves, etc). There's a strange phenomenon in farming where having just the right random elements on hand can be extremely useful. For instance, I need to get experience welding, so having a supply of steel scraps (as well as a new arc welder!) would be great for me to practice with.
Electric Carts
In the spirit of lowering our reliance on fossil fuels, I'm looking into getting an electric cart again for intra-GGF deliveries. We had a beauty (named "Electra"), but she succumbed to the coastal salt air a number of years ago. Green Gulch Farm has signed up for an electricity plan called Deep Green from Marin Clean Energy, which means that all of the electricity we purchase comes from renewable sources. Some of it even comes from a solar array on a parking garage in Richmond. So the idea of charging up a non-polluting electric cart with renewable energy from the grid sounds very appealing.
Biodiesel Engines
If anyone has experience in converting diesel engines to run on biodiesel (BD), please be in touch. We're considering whether to have our next delivery truck run on BD for a smaller ecological footprint, but have heard conflicting reports about how BD plays out in the long run. Ideas? Insights? Let us know.
If you have anything you think might be useful, please take a picture, write a description, and send to me at farm@sfzc.org. I'll try to respond quickly and let you know if it's something that we can put to good use.
Inquiries about possible donations are always welcome, and I'll also periodically send out specific solicitations like this one about BICYCLES!
Volunteering on the Farm
There is also an open invitation to come join the farm crew during the work week to help out with things. Tuesday mornings at 8:45 a.m., we bow in at the farm altar during our regular Volunteer Day. If you would like to come, just send an email letting me know so I can plan projects for the right number of people. We work until 12:30 or so, and then you are welcome to join us for lunch and more work in the afternoon if you wish.
If Tuesdays don't work, send an email letting me know of another weekday you'd like to come. We can make arrangements via the Internet or over the phone. Please note that the farm crew rests on Saturday and Sunday, so there are unfortunately no volunteer opportunities over the weekend.
You can read up on and follow our activities on the farm blog, Record of the Event Called One Farm Season, at onestalkofvegetable.wordpress.com.
Thank you for all your support. We hope to see you in the fields of plenty west of the zendo, at the farmers markets or at a dharma event.