Art on canvas and glass by Dana Zed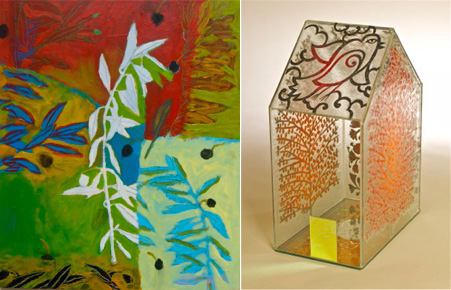 May 1- 31, 2014
in the City Center Art Lounge
300 Page Street, San Francisco
Reception: Friday, May 9, 7 – 9 pm
About the Artist
Dana Zed has been making and exhibiting art in the San Francisco Bay area for over three decades. Her work is included in the Oakland Museum, the Seattle Museum and the Corning Museum of Glass in New York. Dana's sculpture for the San Francisco Arts Commission was installed at the San Franciso Public Library's Portola Branch in 2009, and she was artist in residence at the de Young Museum in 2012. She teaches at Esalen in Big Sur, at Pixar, and at Oakland Public schools. She is the mother of two teenagers.
The exhibit "A Little Bit of Almost Everything" contains a variety of work. The paintings were done recently with San Francisco Zen Center in mind. The two wall window pieces are installations specifically created for City Center's Art Lounge windows, which were designed by Julia Morgan. The pillars are from the early 1980s, and the calligraphy was done by Tensho David Schneider, who lived at Zen Center.
More of Dana's work can be seen on www.danazed.com or on betweenstops.wordpress.com.