Be aware of the light. If you really understand what light is, it will reflect on you. Everything is made out of light.  —Narcissus Quagliata, as interviewed by Lilou Mace in March 2012 (see this YouTube video)
Famous today for designing glassworks from Rome to Taiwan, Narcissus Robert Quagliata left important traces of his beginnings at Zen Center.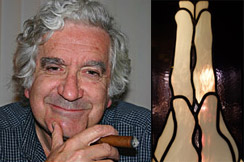 The first subjects in glass he ever represented were the stained-glass gassho hands of Shunryu Suzuki Roshi and Dainin Katigiri Roshi in the swinging doors between the kitchen and the dining hall at City Center.
Narcissus knew since childhood that his field of interest was art—and the mystery of how art manifests itself—and he spent valued time at City Center in the late 1960s, growing in his understanding of life, the broader universe and himself. In fact, Suzuki Roshi asked him to become the first director of the Zen Center building at 300 Page Street.
In a special lecture at City Center on Friday, May 9, Narcissus will discuss his formative years at Zen Center and the path of his art career. The talk will focus on how a relationship with Suzuki Roshi influenced his life and the relationship between art and the formal practice of zazen.
A book of his work and technique, Archetypes and Visions in Light and Glass (see below), was recently published by Arnoldsche. Three of his famous works are highlighted below:
Santa Maria degli Angeli ("Divinity in Light"): Between 1997 and 2000 Narcissus realized a design for a dome for the State Balisica for the Italian Republic in Rome. The Basilica was the last architectural work of Michelangelo, and it was built on the Roman ruins of the Baths of Diocletian.
Guang zhi qióngding ("The Dome of Light: Wind, Fire, and Time"): Inaugurated in 2008, the dome is a public artwork in the Central Station of the newly built Kaohsiung Rapid Transit metro system, and is the world's largest stained glass installation. It is divided into four sections: water, earth, light and fire.
Grace Cathedral ("The Gift"): This window completed the 50-year stained glass window program and is placed in the north transept of the Cathedral. The theme of this project is motherhood and universe.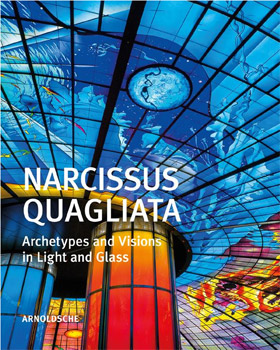 Background
An Italian and US citizen, Narcissus Quagliata was born in Rome, Italy, in 1942, where he studied painting with the metaphysical painter Georgio De Chirico. At the age of 19, Narcissus moved to the United States and studied at the San Francisco Art Institute, receiving both a bachelor's and a master's degree in painting and graphics. Soon after graduation, he began working in glass, and he continues to use it as his principal form of artistic expression. He resides and has studios in Mexico and Taiwan. For more information, visit narcissusquagliata.com.
Event Details
Friday, May 9, 2014, 7:45 – 9 pm
in the City Center dining room, at 300 Page Street, SF
A $10 donation is suggested