Please consider joining us for a week or more between April 12 and May 3 for this special Work Period to make necessary improvements to structures and tend to the surrounding land.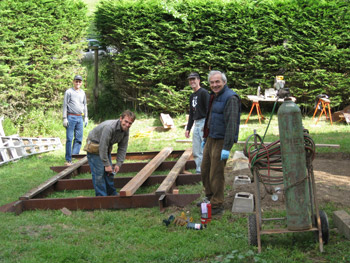 The Work
For 40 years, Green Dragon Temple / Green Gulch Farm Zen Center has provided a unique locale and community for Zen practice, intentional living, organic farming and gardening, land stewardship and spiritual renewal. At the heart of Green Gulch are the zendo (meditation hall) and adjacent Cloud Hall, the largest and most centrally located residential structure at Green Gulch Farm.
This spring Zen Center will see the beginning of a major renovation and remodeling of Cloud Hall, planned to improve student housing and provide additional program space for classes, retreats and workshops. (Read more about this project: PDF) At the same time we will be doing major roof repairs on the Lindisfarne Guest House and refinishing the floor in our main dining room.
While our contractors are getting started on these big projects, the community of residents and Work Period guests will join in the renewal of Green Gulch and the watershed. Working together in the spirit of maintenance and stewardship, we will provide support with preparations (such as helping to empty Cloud Hall and painting the dining room before the floor work begins) and undertake additional repairs and improvements to buildings and grounds and throughout the 115-acre Green Gulch valley.
The Stay
We will be offering free accommodations in the Guest House (possibly accompanied occasionally by dust and noise), delicious vegetarian meals and fresh-baked Green Gulch bakery bread, meditation instruction and dharma teachings, and the camaraderie of work and practice to volunteers who are able to join us for a week or more between April 12 and May 3 (space permitting).
Work during this special three-week period will include general preparations for the Cloud Hall renovation, maintenance and improvements to other buildings, and work on the watershed to preserve and increase native habitats, prevent erosion, care for our salmonid creek, and maintain and create local Green Gulch trails.
Apply
Work will be physical. We especially want to encourage guests who can offer skills in construction, maintenance and landscaping, but anyone who is willing to get dirty and work hard is warmly welcome. Commitments for a full week or longer are preferred and will be given priority. Introductions for those new to a Green Gulch work week will be given on Saturday evenings.
To apply, please complete and submit this application form (Word / PDF) as soon as possible, but no later than March 15. Confirmations may not be available until late March. Please let us know if this timing is inconvenient and we will do our best to accommodate your planning needs.
The Work Period will be led by Thiemo Blank, Plant Manager, and Sukey Parmelee, Land Advocate. Applications should be directed to Catherine Gammon, at ggfdirectorassist@sfzc.org.