Thank You for Supporting the Holiday Food Drive
Many thanks to all who participated in Zen Center's activities on behalf of the San Francisco Food Bank. As well as a full barrel of non-perishable food items, we raised $120 in cash.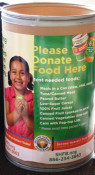 Although the food drive is over for this year, there are still other ways in which you can be part of Zen Center's outreach programs. Please see our website for details.