January Art Exhibit in the City Center Art Lounge, by Margaret Bertrand
Reception: Friday, January 10, 7 – 9 pm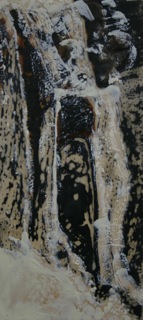 Artist's Statement
My inspiration for The Waterfall Paintings is the chapter in Zen Mind, Beginner's Mind by Shunryu Suzuki: "Nirvana, the Waterfall." I was immediately moved by his comparison of human life to drops of water in a waterfall: separation from the river; steep falls; crashes into rocks; swirling waters; misty views; and finally, connection again to the universal river. Each painting tries to show aspects of this idea.
Waterfalls engage all five senses and these strive to do the same—physically, psychologically, and spiritually. Encaustic (beeswax, pigment and damar resin) is the primary medium because of the luster, transparency and flow it provides.
I had planned do only 108 paintings representing the 108 delusions, but I am now on 125 and still working. I was born in Niagara Falls, New York, so perhaps that is why the theme of waterfalls still fascinates me, or perhaps it is because I have more than 108 delusions.
__________

Margaret Bertrand came to Tassajara in 1997 a few months after her retirement and her sister's death to take Michael Wenger's workshop Zen Mind, Beginner's Mind. To her, she was beginning a new phase of her life and this might be helpful. Buddhism was not on her mind. Ten years later she had her jJukai with Dairyu Michael Wenger, who gave her the name Gen Jo My Ku: Present Complete Wondrous Sky.
Margaret has been painting full time for over 15 years. Her work is exhibited and sold in the San Francisco Bay area and in San Luis Obispo county. Prior to becoming an artist, Margaret relied almost exclusively on her left brain; she graduated from Northwestern University in Evanston, Illinois, as a psychology major with a minor in art history, and spent 33 years in business as a marketing executive.
She resides in Los Osos, California, with her husband, artist Robert Dodge.