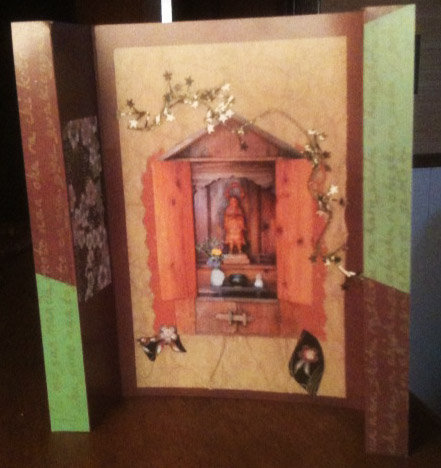 As mentioned in the last post, Abbot Steve now receives regular medication injections and is able to "dose" himself as needed. This is a relief for all of his caregivers and, once again, we give thanks for the wonderful care he is receiving from Petaluma Hospice and, in particular, his doctor Steve Hadland and lead nurse Cynthia Clarkson.
During last week's hospital stay at a visit to the on-site chapel, Lane was recognized by hospital chaplain Joé Annette Lille of Stone Creek Zendo, who offered words of comfort. When Steve woke up later that day, he found a beautiful card of the old gatehouse altar at Tassajara made by Peggy Denial and signed by Joé. It sits in his bedroom now. "We are the beneficiaries of such tender mercies," says Lane.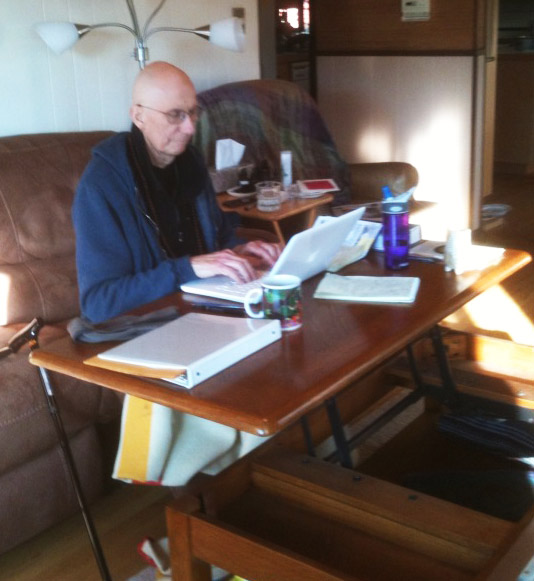 As his mobility has declined, Abbot Steve has found a way to set up an office in the living room where each day he keeps up with communications, as he is able. Tonight he will skype with the annual Dharma Eye Zen Center Solstice Party in Marin County. He and Lane are sending solstice greetings to all in the ten directions.