Abbot Steve heads to the infusion center at Kaiser several times a week for chemo and hydration. In the center is a glass-fronted case containing the warm blankets Steve loves. Returning home recently, he read aloud from Sherman Alexie's War Dances. It was the chapter called "Blankets." An exerpt follows: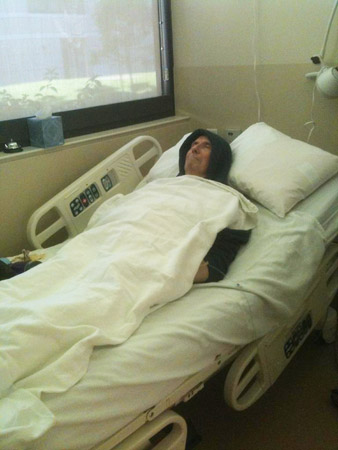 "Hey, wait," I said.
"Yeah?"
"Can I ask you a favor?"
"What?"
"My dad, he's in the recovery room," I said. "Well, it's more like a hallway, and he's freezing, and they've only got these shitty little blankets, and I came looking for Indians in the hospital because I figured—well, I guessed if I found any Indians, they might have some good blankets."
"So you want to borrow a blanket from us?" the man asked.
"Yeah."
"Because you thought some Indians would just happen to have some extra blankets lying around?"
"Yeah."
"That's fucking ridiculous."
"I know."
"And it's racist."
"I know."
"You're stereotyping your own damn people."
"I know."
"But damn if we don't have a room full of Pendleton blankets. New ones. Jesus, you'd think my sister was having, like a dozen babies."
And the story gets better. Thank you, Sherman Alexie.