Dear Friends,
I apologize for not writing an update for a few days. Time seems to get away from me, and the web editor is kind enough not to send me deadlines.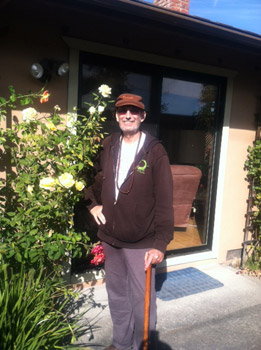 Abbot Steve took a walk in the yard this afternoon again today and spent some time talking to David, his old foreman. David and the crew that are here worked for Steve when he owned the landscape design company before Abbot Steve was "Abbot Steve." Currently they are working at the house doing extensive fence and other outdoor repairs.
In general, the process of this disease is continuing. Abbot Steve is requiring more and more in the way of pain control, and that affects his entire system.
Lane and Abbot Steve are on a very steep learning curve and are in consultation with a number of physicians in order to find a balance between the pain and the side effects that the medications cause.
Each day presents a slightly different challenge.
Abbot Steve continues to be extremely grateful for all the well wishes he receives and for the chanting that is being done on his behalf. He asks that all these be done not only with him in mind but to all those who are in need.
Thank you all so much for your kind thoughts,
mary