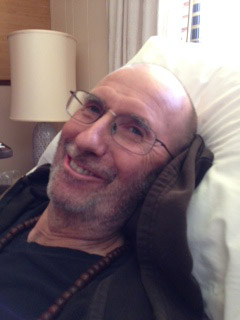 Abbot Steve returned home today, which for the last couple of days is what the medical team and Abbot Steve have been working toward. The intravenous fluids were stopped yesterday, and medications that had been delivered by injection have been changed to liquid or pill form. The cellulitis that caused this stay at the hospital is clearing up well. Abbot Steve is eating more through the day and feeling generally more at ease.
Through the afternoon he visited with family from the electrically adjustable hospital bed that has been moved into the house. At dusk he spent some time walking in the back yard, literally smelling the roses.
In the next couple of days he hopes to talk with his oncologist about proceeding with the chemotherapy treatments.
Thank you for all of your love and support,
Abbot Steve and mary