An Interview with Melinda Miller conducted by Amity Bacon, SFZC Volunteer Writer
For Melinda Miller, Zen practice and cooking have gone hand in hand since she wandered onto the steps of City Center and met Zen teacher Mark Lancaster. A few years into being a resident at City Center, Melinda became head cook, later to become guest cook at Tassajara.
"I love the relative quiet of a Zen kitchen.  There is a lot going on when we cook, and I really appreciate feeling the space to enjoy each task as it comes up . . . Of course, 'Zen' kitchens exist not only at Zen centers, they can be anywhere."
Melinda Miller will share her kitchen wisdom and create a vegetarian feast for Joyful Mind in the Zen Kitchen, a cooking and mindfulness workshop that she will co-lead with her longtime Zen teacher Mark Lancaster on Saturday, November 2, from 1:30 pm – 7 pm at City Center.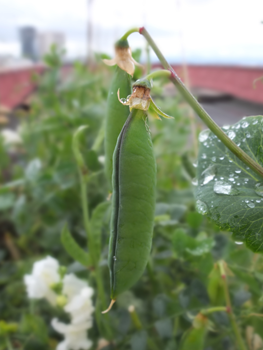 What brought you to cooking? I have always enjoyed tasting new flavors.  As a child, my best friend's mom, Sally, was a great cook with a beautiful kitchen.  When we misbehaved, she would send us to wash and tip green beans in her big stainless steel vegetable sink.  This task was no punishment to me. I loved the feel of my fingers in the big basin of beans, the bright color and snap, and the dinners that followed. Sally was a huge influence on me in terms of appreciating how simple, vibrant, and delicious food can be.
Later, in high school, I worked at an open-air produce market.  Each week the owner of the market would travel to the southern U.S. to gather produce from farmers: peaches, tomatoes, corn, green beans, squash. We would open the market on the weekends, and on Sunday, I would often receive a large box or two of leftover produce.  I made endless batches of peach ice cream, tomato sauce, and fresh dinners for my friends and family.
How did you begin to merge your Zen practice with cooking? Cooking is an activity that happens to capture my attention. It is very satisfying to stay effortlessly, completely engaged with what I am doing. When I am cooking, it is easier for me to see when my attention gets pulled away, and I am motivated to bring it back to the task at hand. It has always been this way for me with cooking.
Fifteen or twenty years ago, I didn't call it Zen practice. But now, I think that's what I was doing, and also what brought me to Zen Center.  I found Zen Center because Fields of Greens was my favorite cookbook in the 90's. When I moved to San Francisco, I noticed the building, recognized it as affiliated with the cookbook, walked in, and met Mark Lancaster, my teacher. The rest is history.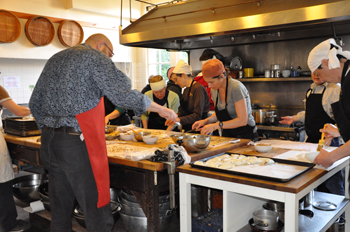 How is a Zen kitchen different from a non-Zen kitchen?  I love the relative quiet of a Zen kitchen.  There is a lot going on when we cook, and I really appreciate feeling the space to enjoy each task as it comes up. "Non-Zen kitchens" are often noisy, maybe loud music playing, a lot of unrelated conversations, and, too often, an angry chef running the show.  I find these kinds of kitchens very stressful.  Of course, "Zen" kitchens do not only exist at Zen centers, they can be anywhere.
What is meant by "joyful mind"?  To me, a joyful mind is fully engaged, generous, relaxed, flexible and responsive to stimuli, curious and willing. It is not tied to pleasure or pain, happiness or sadness, approval or disapproval, etc.  Sometimes joyful mind arises when I am doing something that compels my attention, like cooking, or during a major life event, like labor and childbirth. It also arises when I am given the space and time to quiet down, as in a seven-day sesshin. Sometimes it is there when I least expect it.  Joyful mind is filled with gratitude.
Can you recall your first memories of feeling a sense of meditation through cooking?  One day, when I was living at City Center and working as head cook in the kitchen, I was making soup.  It was a very hard time for me.  I worry about my health a lot, and I was in the midst of a health scare.  I was filled with anxiety and fear.  I felt almost as if I was floating out of my body and I couldn't find the ground.
I was working on the low burner in the kitchen with a big rondeau full of onions I was sautéing for soup.  I remember vividly the light golden slippery pieces, the steam rising from the onions engulfing my face, my whole body stirring that huge pot.  In that moment, I asked myself, "If nothing else, can you just trust this pot of onions?  Just this one pot of onions?"   In that moment, my feet, and my whole body sank into the ground, and said, "yes." I was already there.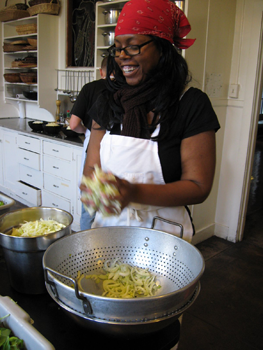 What do you enjoy cooking?  I have never met a dish that I didn't enjoy cooking, but my love affair is with vegetables.  I like to cook with whatever is in its peak season.  In the summer, I tend to make a lot of salads and grilled dishes.  In the winter, I like to make braises and stews with raw salad garnishes.  I am inspired by global flavors, and in any given week I will have probably made Indian, Middle Eastern, Mexican, and either Japanese, Chinese, or Thai meals, and a fresh pasta or pizza.
Do you have a particular set up for your kitchen?  My kitchen is pretty small, and I like to keep it very well organized.  This cleanliness and organization helps me to feel at ease in my kitchen, and gives me the space to freely focus on cooking.
We have an old kitchen that has not been remodeled since the '20s.  I love the big old, deep farm sink, the ironing board cupboard, and the abundance of light.  There is a window overlooking a garden above our sink, and there is a big window above my large butcher block prep table.  Our refrigerator is just inside the mudroom, which seems odd but works for me because it gives me more space in the cooking part of the kitchen.  Our pantry is also around the corner.  I have a small rolling cart next to the range, where I keep my cooking tools in old crocks.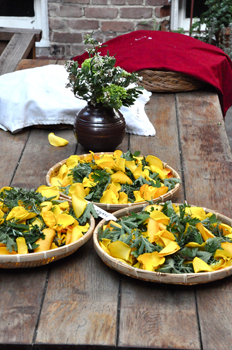 Could you share with us a story of a joyous meal or cooking-related event?  There are many, but what jumps into my mind is the dinner parties we used to have at 368 [at City Center].  A group of us lived there together, and we sometimes used to invite Zen Center residents over to cook, eat, and dance.  I think those parties were particularly joyful, because everyone who showed up was completely on board with what was offered.  There weren't a lot of other expectations about the events, like there often are at parties, and I think there was a feeling of safety and acceptance to just be whoever you are.
The cooking, sharing food, and dancing were all there to support us just being completely ourselves with our sangha.  What a wonderfully freeing feeling!  And then, on top of it, all the guests would stay to clean up when the party was over, just because they wanted to!
The Joyful Mind in the Zen Kitchen workshop offers an opportunity to step into the fall holiday season with a mind ready to take in and give back all that the season provides. The workshop will be led by Melinda Miller and Mark Lancaster on Saturday, November 2, from 1:30 – 7 pm, in the kitchen at 300 Page Street. To find out more about this workshop: http://bit.ly/GJXKYL