This summer some of us, while taking in the Tassajara experience, expressed our love and appreciation for this Zen mountain escape in the art we created. Tassajara ZMC is very grateful to these three artists for generously sharing with us their creations.
About this poem, Rhoda Kaufman writes, "It's my love song to Tassajara. My family has been coming to Tassajara for over 40 years. This last summer I was there with my two grown daughters now in their 40s who remember being brought there as young girls.  I am a professor of theater at California State University East Bay and I do write poetry as well. I wrote that poem while at Tassajara this summer."

CREEK WORSHIP
It's not so easy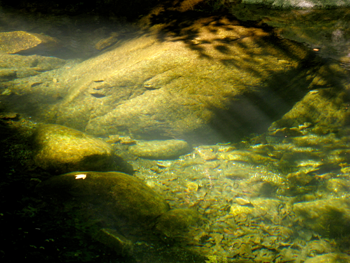 dropping my torso into the cold stream
keep the left eye dry no swimming for two weeks
But I will submerge all but that eye
So trout, one or two inches in length, can have an afternoon nibble.
I watch them swim across my body,
darting under, over, in my armpits, in my thigh creases.
They have no sense of decorum
They just are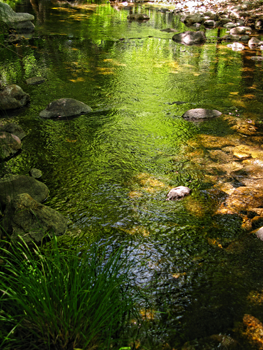 Totally at home in this cold stream.
I am the foreigner, the curiosity, the snack.
But if I lie there, very still,
My body heat makes a thin robe around me
and for a brief time
I too am at home.
For isn't this the water of life
algae,rocks,fish, and me
a cold soup for a hot afternoon
on a late Saturday in August.
Tassajara
August, 2013
(photos by David Silva)
Our painter, Noelle Nichols, writes, "I first heard about Tassajara when I bought the Tassajara Bread Book and used it thoroughly every day, in the 70's.  Then in 1981, I was actually introduced to Tassajara and stayed there with a friend.  I have never missed a season since.  
I've been painting in watercolor since childhood.  I find there is no better way to portray the whimsy I see, and to share it. Tassajara is my favorite place on this earth.  My Facebook page is called 'Noelle Nichols Fine Art'.  Every year at least one new Tassajara watercolor joins my collection."
Barbara Huntington wrote this delightful story while attending the poetry retreat "Words Under the Words" with Naomi Shihab Nye and Ryushin Paul Haller at Tassajara.

With no carefully constructed plastic partitioned plate and having been suckered in by Bunkai's humor and philosophy in Sack Lunch 101 (I usually avoid buffets), I find myself with a purloined large yogurt container, small white bags, and the traditional brown one, loitering in the sack lunch area after breakfast.
The tables are piled high with hummus and baba ganoush, and tapenade—tempting tapenade! After examining my yogurt container for possible hidden compartments, I decide on the layered approach: hummus in one quadrant, baba ganoush, tapenade, some sort orangish dip, and…oh glory, guacamole! Oh no! More items than quadrants. Oh well. I pile on gherkins and a large dill pickle, kalamata olives, slices of avocado, tiny tomatoes… Continue reading short story.
(photo by Shundo David Haye)