The Zen Center Coming of Age Program provides an opportunity for 7th- and 8th-graders to meet together regularly over nine months as they explore this important transition period in their lives. The program is marked by opening and closing ceremonies, and includes some overnight stays or trips as well as the regular monthly meetings. This year's opening day is September 8.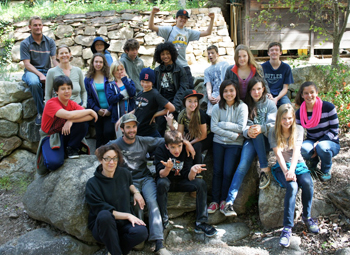 Just as Siddhartha left the innocence and protection of his childhood palace to seek his own path and to discover what he had to bring into the world, so must all young people leave the total dependence of childhood behind and embark on the complex journey towards adulthood. The program aims to offer guidance and support that facilitates youth in their journey towards forging new connections to themselves, their community and the environment. It is also a formal celebration of that journey.
Program Facilitator Fu Schroeder is looking forward to the 2013-2014 program, which starts in just a month. She reports that with many positive reports on last year's program from both kids and parents, sign-ups for this year have included a number of returning students. However, there's still room for five of each gender. The mentors for this year are all veteran school teachers who are very comfortable with this age group. Last year, the groups were able to visit Tassajara for the spring sleepover.
See the program page for more details and to register. We hope you will join us!